Q&A with Brian McGowan, Deputy Assistant Secretary of Commerce for Economic Development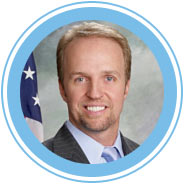 U.S. Deputy Assistant Secretary Brian McGowan leads the White House National Incident Command (NIC) Economic Solutions Team, which is working to help communities and regions mitigate the impacts of the BP Oil Spill. This initiative is part of EDA's goal to support collaborative regional innovation to promote sustainable job growth and strengthen communities that have suffered disproportionate economic and job losses to become more competitive in the global economy.
Q. What was the role of the Economic Solutions Team within the National Incident Command?
A. During the summer 2010, following the Deepwater Horizon oil spill, the Economic Solutions Team worked extensively with Federal interagency partners and affected Gulf Coast communities in considering the economic recovery needs of the region. Many of these initiatives involved extensive coordination and communication of activities between many Federal agencies including the SBA, HUD, USDA, DOL, DHS, White House, DOEd, CNCS, and others. In addition, over several weeks in August 2010, multiple teams comprised of federal agency representatives, economic development organizations and experts in economic development deployed to the Gulf Coast region to conduct a series of economic development needs assessments in 19 counties affected by the oil spill. These trips followed the completion of two "pilot" trips in June and July. This effort was part of the Obama Administration's overall response to the Deepwater Horizon oil spill and was carried out through the National Incident Command.
Q. What was the outcome of the efforts of the 21 economic development and assessment teams?
A. The teams included 125 federal officials partnered with 105 economic development experts, visited five states (Florida, Louisiana, Alabama, Mississippi, and Texas) to conduct 3-day assessments of each region. A total of 672 meetings were held with approximately 1,281 people representing 854 entities. The objective of these qualitative assessments was to provide multi-disciplinary, customized, and capacity-building technical assistance for impacted communities. The assistance was designed to foster each community's ultimate development of its own strategies for economic recovery.
Each site visit was structured to meet with a wide swath of key stakeholders from different sectors of the local community, including economic development leaders, political leaders, local government officials, business owners, workforce intermediaries, educational leaders, financial sector representatives, etc. Based on stakeholder-identified economic development needs, the assessment teams identified potential short- and medium-term strategies for economic recovery that communities could consider.
The findings of the assessment and evaluation teams informed the development of comprehensive framework for Gulf Coast recovery provided in Secretary of the Navy Ray Mabus' report, America's Gulf Coast: A Long Term Recovery Plan After the Deepwater Horizon Oil Spill ("Mabus Plan"). Specifically, the teams' findings were instrumental in shaping the economic section of the report. That report is available here.
Q. What resources are available to impacted communities working through the economic recovery?
A. Each community has unique attributes, assets and recovery/economic development needs. The assessment and evaluation teams worked closely with local stakeholders to understand their individual characteristics and needs. The summary report sent to each community reflects an analysis of the county/parish's specific assets, economic development resources, and key recovery areas.

Recovery Resources
A guide has been compiled with best-practices that can be adapted for implementation in many communities. These resources can be found at the following links.
An overview of the assessment and evaluation team process with a guide to common best practices on issues of interest: http://www.restorethegulf.gov/node/4476
A guide to help communities learn about federal programs
http://www.restorethegulf.gov/node/4591
A guide to state resources in the Gulf http://www.restorethegulf.gov/node/4446
Guidance on grant writing http://www.restorethegulf.gov/node/4416
A guide to private and nonprofit resources http://www.restorethegulf.gov/node/4621
And a "recovery checklist" to help assist your recovery planning http://www.restorethegulf.gov/node/4411