November 2011 Newsletter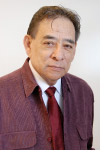 UTTC is a partner in the Upper Missouri Tribal Environmental Risk Mitigation project that recently received a $1.7 million award as part of the Obama Administration's $37 million Jobs and Innovation Accelerator Challenge, a multi-agency competition to support the advancement of 20 high-growth, regional industry clusters.
David M. Gipp
David M. Gipp is president of United Tribes Technical College, an intertribal, post-secondary vocational technical college for American Indian students and their families in Bismarck, ND. Born at Fort Yates, ND, Gipp is an enrolled member of the Standing Rock Sioux Tribe. His Hunkpapa Lakota name, Wicahpi Isnala, translates as Lone Star.
> Read more