October 31, 2016
By James P. Clements, Ph.D., President of Clemson University and Co-Chair of the 2014-2016 NACIE Board.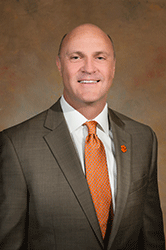 I also want to thank all the people who worked so hard to make this happen, especially Julie Lenzer and her team, including Eric Smith, Craig Buerstatte and Nathan Ohle. There are so many people involved in keeping NACIE going, and I deeply appreciate the important work they are doing.
While the purpose of NACIE is to help guide the U.S. Department of Commerce on policies and legislation designed to improve the innovation ecosystem in the United States, I think perhaps its greatest contribution is connecting people who share a passion for driving economic innovation to one another. I have had the pleasure of working with some extremely smart, vibrant, innovative people on the Council, and it is really those people who will make the long-term difference.
> Read more