Q&A with with Rebecca Blank, Acting Deputy Secretary of Commerce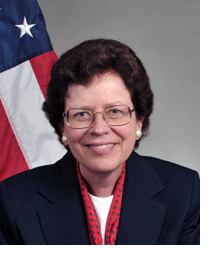 Rebecca M. Blank was designated as Acting Deputy Secretary of the U.S. Department of Commerce on November 18, 2010. In this role, Blank focuses on matters of management and policy for the department's 12 bureaus, functioning as Commerce's chief operating officer.
Q: It is Women's History Month. Please reflect on your career in economics and what you feel is needed to expand opportunity for women in America and globally.
A: A large segment of my past research and writing as an economist has focused in one way or another on women's lives and well-being. I've been very interested in the changes in women's work behavior and earnings over time, in changes in family demographics, and in the impact of public policies on family well-being. Women's employment opportunities have expanded greatly over the past several decades; women are working more and working more continuously throughout their lives. Furthermore, young women now graduate from college at a higher rate than young men. The combination of growing education levels and growing workforce experience means that women's wages and work opportunities should continue to expand.
That said, women still earn less than men, typically because they are in a very different set of jobs and these jobs tend to pay less on average. One of the reasons why I strongly support this administration's efforts to increase the number of women who are attracted to the so-called 'STEM' (science, technology, engineering and mathematics) fields is because I think girls need to be encouraged to think more broadly about the possible careers that are open to them. Beyond the United States, these issues are even more pressing. A growing body of research suggests that one of the best policies for long-term development is better education for girls in the developing world. Countries that increase girl's schooling opportunities typically see reduced population growth, improved family health, and higher family incomes.
Q:President Obama has made it clear that necessary spending cuts will not hinder much needed investments to continue the economic recovery. How does the President's FY2012 budget proposal help create jobs and increase U.S. competitiveness?
A: President Obama's FY12 budget invests in what will make America stronger – education, science and technology, and a 21st century infrastructure. Both parties understand the necessity of cutting spending, and the President's budget is filled with difficult choices. The budget reduces non-security, discretionary spending to its lowest percentage of the economy since Dwight Eisenhower was in office. But these choices allow us to make crucial investments that will help America out-educate, out-innovate and out-build our economic competitors. It's a budget that recognizes that the most important contest is not between Democrats and Republicans but between the U.S. and countries around the world that will be competing for the jobs and the industries of the future.
More jobs in the future will require higher education, and investments in education programs will ensure that the next generation is prepared with the skills they need to succeed and that America is well-positioned to win the future. The President has called for the preparation of an additional 100,000 science and math teachers, and vowed to make college more accessible and affordable by strengthening our community colleges and permanently extending the American Opportunity Tax Credit. These investments will help achieve the President's goal of having the highest proportion of college graduates in the world by 2020.
Investments in American research and technology will facilitate new innovation that leads to creation in American manufacturing. That's why the President's budget challenges our scientists and engineers to invent and develop new technologies to meet our nation's energy challenge, and why the President has set a goal for 80 percent of America's electricity to come from clean sources by 2035.
Building a 21st century infrastructure will help our businesses ship American goods, products, and ideas all over the world. The President has proposed new efforts to put Americans to work repairing and rebuilding America's crumbling roads and bridges, and called for a National Wireless Initiative to provide 98 percent of the country with access to high-speed Internet.
The difference between cuts that are responsible and ones that are reckless is the difference between a future where our children are in a strong position to compete for the jobs of the future and one where they are not. The right investments can win the future by laying the foundation for American competiveness for years to come.
Q: The U.S. Department of Commerce works closely with the Obama administration to promote job and economic growth in U.S. regions. Please discuss some recent investments and initiatives.
A: Last month, the White House launched Startup America, a national campaign to promote high-growth entrepreneurship across the country. Several agencies – including the Commerce Department – announced new initiatives to help encourage private sector investment in job-creating startups and small firms, accelerate breakthrough research, and reduce barriers to success for entrepreneurs and small businesses.
As part of this effort, Secretary Locke announced plans to build on the success of last year's inaugural i6 Challenge with i6 Green, a second competition focused on both regional economic development and environmental sustainability. The program aims to accelerate technology-led economic development in pursuit of a vibrant, innovative clean economy. Several high-profile, private-sector companies also made impressive commitments to support educational initiatives and programs that speed up the movement of new ideas from the lab to the marketplace.
Our CommerceConnect program is another initiative that is promoting business and economic growth across the country by helping businesses access key development resources. Cross-trained staff connect local businesses with the breadth of support that Commerce, the federal government, and state and local organizations have to offer – no matter whether these businesses are just getting off the ground or looking to expand into overseas markets. And since January, CommerceConnect has extended its services to cities like Chicago, Philadelphia, Atlanta and Los Angeles.
The department's Manufacturing Extension Partnership, or MEP, is also doing great work. MEP is a front-line program that works directly with companies to help them identify and enter new markets. Through its national field staff of over 1,400 technical experts located in every state, MEP helps manufacturers navigate economic and business challenges and connect to public and private resources essential for increased competitiveness and profitability. With a proposed MEP budget increase of $12.9 million for fiscal year 2012 over the President's fiscal year 2011 request, the administration recognizes the program's success and the importance of policy initiatives for domestic manufacturing that create jobs and better respond to future challenges and opportunities.
These are just some of the many initiatives we are working on to make American businesses more innovative at home and more competitive abroad, so they can create jobs.
Q: What is the role of the U.S. Economic Development Administration within the U.S. Department of Commerce in terms of job creation?
A: As the only government agency with economic development as its sole mission, the U.S. Economic Development Administration (EDA) plays an important role at the Commerce Department and within the administration. The agency's strategic investments enhance the competitiveness of America's communities, spur innovation and help create local jobs. EDA's flexible programs leverage public-private investments, support "bottom up" strategies and build 21st century infrastructure.
Every dollar that EDA invests leverages another $6.90 in public-private investment. Over the last two years, EDA has helped U.S. regions plan for long-term stability and create the conditions for the private sector to succeed. EDA's $1.4 million infrastructure grant to the city of Nashwauk, Minn., (population of less than 1,000) helped ensure that the new Essar Steel Minnesota plant – a $1.6 billion project expected to create 2,800 full-time jobs – was able to locate in the region.
EDA's approach prevents a "race to the bottom" in which cities, counties and states undercut each other to attract short-term growth. By bringing together business leaders, government officials, universities, and non-profits, EDA helps regions capitalize on shared strengths, multiplying their economic power and job-creating potential. To drive global competitiveness, EDA is developing regional innovation clusters that build around a region's unique strengths, like the Navy Yard in Philadelphia, where EDA and other federal agencies recently awarded $129 million to develop an innovation cluster for energy efficient buildings.
EDA is instrumental to achieving both the Commerce Department and the administration's goals of accelerating the economic recovery, enhancing America's long-term competitiveness, and winning the future.