White House Honors Women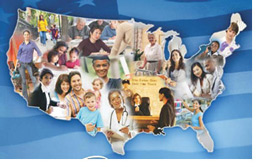 Last week, the White House released a new report entitled Women in America: Indicators of Social and Economic Well-Being, a statistical portrait showing how women are faring in the United States today and how their lives have changed over time. This is the first comprehensive federal report on women since 1963, when the Commission on the Status of Women, established by President Kennedy and chaired by Eleanor Roosevelt, produced a report on the conditions of women. View Women in America report.
Read The Wall Street Journal article, "Strides by Women, Still a Wage Gap" that highlights the White House report findings.
Women in America focuses on five critical areas: people, families and income; education; employment; health; and crime and violence. The Administration will be honoring Women's History Month throughout March, and will highlight a different section of the report every week.

Read President Obama's Proclamation of March 2011 Women's History Month
Valerie Jarrett, Director of the Council on Women and Girls and Special Assistant to the President, discusses the Women Owned Small Businesses Federal Contract Program and how it will help women break in to industries where they are currently underrepresented.
Women who are helping the Obama Administration achieve its goal of winning the future
Marie Johns' Story: Supporting Small Businesses and Growing the Economy
Marie Johns is the Deputy Administrator of the Small Business Administration.
Now, as Deputy Administrator of the U.S. Small Business Administration (SBA), I have the privilege of supporting the small businesses that are innovating, growing the economy, and creating jobs every day. I am especially focused on helping the SBA reach businesses in underserved markets, such as African-American communities. These businesses often have a harder time getting the tools and financing they need in order to compete and thrive. Our loan programs help banks lend more to small businesses everywhere, and our counselors reach millions of entrepreneurs and small business owners each year.
Click here to read the full blog
Dr. Regina Benjamin's Story: Promoting Health and Wellness for All Americans
Dr. Regina Benjamin is the Surgeon General of the United States.
Prevention is the foundation of public health, and prevention is the foundation of my work as Surgeon General. If we want to truly reform health care in this country, we need to prevent people from getting sick in the first place, and stop disease before it starts. In the health reform law that was enacted in 2010, Congress created a commission to develop the first-ever national prevention strategy, and named me to chair the commission. The panel, made up of the heads of 17 federal departments and agencies, is providing coordination and leadership at the federal level to ensure that the government is focused on prevention.