Highlight
U.S. Commerce Department leads U.S. Trade & Investment Program to HANNOVER MESSE 2011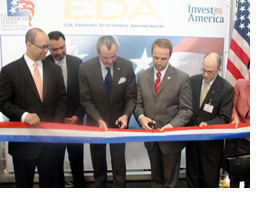 This week, over 20 organizations from across America's regions are participating in the world's largest industrial technology showcase as part of a mission hosted by U.S. Department of Commerce's Economic Development Administration (EDA) and International Trade Administration (ITA). Deputy Assistant Secretary for Economic Development Brian McGowan is co-leading the trip to HANNOVER MESSE 2011 in Hannover, Germany along with ITA's Director of the Invest in America program Aaron Brickman to promote innovation clusters as ideal locations to do business and increase U.S. exports.
The 21 economic development organizations include:
The States of Georgia, Utah, Wisconsin, West Virginia, and the Commonwealth of Massachusetts
Florida's Hillsborough Community College
Indiana's Madison County Economic Development Corporation; City of Anderson; and Vermillion County-West Central Indiana
Michigan's Detroit Regional Economic Partnership; Macomb County; Oakland County; and City of Auburn Hills
New York's Creative Core
Ohio's Northeast Ohio Trade & Economic Consortium
Pennsylvania's York County Economic Development Corporation; and Berks Economic Partnership
The State of Tennessee; West Tennessee Industrial Development Association; Chattanooga Area Chamber of Commerce; and City of Humboldt
Participants Trevor Hamilton, Vice President of Economic Development & Chief Economic Development Officer of Chattanooga, Tennessee; and Michael M. Philpot, Executive Director, West Tennessee Industrial Association of Jackson, Tennessee; discussed in a video blog the benefits of their participation in the program.
Read the DOC blog for more information.
Commerce Dept to Deploy Economic Assessment Teams to
Northeast Fishing Ports
Last week, the U.S. Commerce Department announced that economic development assessment teams will deploy this month to conduct a two-day analysis of six Northeast fishing communities. The teams will visit Portland, Maine, Seabrook, N.H., New Bedford, Mass., Gloucester, Mass., Point Judith, R.I., and Montauk, N.Y. The assessment teams will conduct meetings with local leaders to help identify economic development challenges and opportunities facing local industries and communities.
The goal of the visits is to provide customized technical assistance for fishing communities that experienced reductions in groundfish fishing revenues in recent years. The Economic Development Administration (EDA), in partnership with other federal agencies, will meet with local leaders to assess current and emerging economic issues. EDA, with the assistance of the U.S. Commerce Department's National Oceanic and Atmospheric Administration (NOAA), evaluated economic and fisheries industry data, including groundfish landing revenues and the percentage of groundfish landed at a port relative to the state totals, in order to select ports for the interagency assessments.