Q&A with Christopher A. Masingill, Federal Co-Chairman, Delta Regional Authority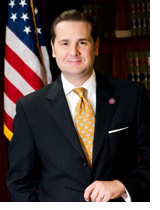 Chris Masingill is the Federal Co-Chairman of the Delta Regional Authority, appointed by the President and confirmed by the U.S. Senate. The Delta Regional Authority is a federal-state partnership that serves 252 counties and parishes in parts of Alabama, Arkansas, Illinois, Kentucky, Louisiana, Mississippi, Missouri, and Tennessee.
Q: How has the Delta Regional Authority supported rural and small business development across the country?
A: Since its creation in 2000, the Delta Regional Authority has invested in business development throughout the 252 counties and parishes that make up the Delta region to support job creation. In addition to our other three project areas including public infrastructure, transportation infrastructure, and workforce development, small business development is an integral part of promoting economic prosperity and quality of life in the Delta's communities. As Federal Co-Chairman, I have a special focus on supporting small businesses and entrepreneurs. They are the backbone of our economy and their growth is crucial to the success of rural America and the Delta region.
As part of our commitment to the growth of entrepreneurs and small businesses, the DRA supports Operation JumpStart, a successful entrepreneurship training program in Southeast Missouri. In partnership with the Douglas C. Greene Center for Innovation and Entrepreneurship (CIE) at Southeast Missouri State University, the Small Business Administration and the Delta Leadership Network, we will expand Operation JumpStart to all eight states in the Delta region by training community leaders to run successful Operation JumpStart programs of their own. Homegrown entrepreneurs will invest in their community's future and create good-paying jobs. To learn more or to sign up for this program, visit www.operationjumpstart.biz.
Gaining access to capital is an ongoing challenge for small businesses and entrepreneurs but a recent analysis shows heartening news that SBA loans for the creation or expansion of businesses are on the rise in the Delta. I support opportunities for capital access such as the expansion of innovative microenterprise development organizations to provide credit and services to small businesses that do not have access to loans from commercial sources.
Q: Nearly 60 million Americans live in rural areas. President Obama has tasked U.S. Department of Agriculture Secretary Tom Vilsack with leading the White House Rural Council to support efforts to build economic growth and improve the quality of life in rural America, which accounts for just over 20% of the population. What role is the Delta Regional Authority playing?
A: The Delta is home to nearly 10 million people and 75% of Delta Counties and parishes are rural. The Delta Regional Authority believes that Rural America's success determines the Delta's success.
As an active participant in the White House Rural Council, we are hosting a number of White House Rural Council meetings for the public in our region to seek input on ways federal, state and local officials can help improve economic conditions and create jobs in Rural America. It is my belief that the Delta Regional Authority is an advocate for the families and businesses of the Delta and that the White House Rural Council meetings will give voice to innovative economic development strategies that boost small business growth. A recent study shows that life expectancy for men and women in the Delta region, is years behind the national average. The disparities between the Delta region and the nation as a whole are stark. With the Delta Regional Authority's investments in the health and economic prosperity of our largely rural region, we helped create and retain nearly 50,000 jobs. By keeping the spotlight on rural America's strengths as well as needs, we can coordinate federal resources and maximize investments across agencies.
Q: Based on the work of the Delta Regional Authority, what are some of the challenges and opportunities for small business development in the areas the organization represents?
A: The Delta is a place where daily life remains a struggle for many. Some communities depend on the Delta Regional Authority to improve basic infrastructure in order to attract business and industry and improve quality of life. 17,000 families have received sewer or clean water service because of our investments in basic infrastructure. Some communities face historic difficulty gaining access to capital and the Delta Regional Authority supports the expansion of innovative solutions like CDFI funded programs and microenterprise development organizations that provide credit and services to small businesses lacking access to loans from commercial sources.
I witnessed the significant damage caused by this spring's severe storms and floods to Delta families and businesses. As we begin the long road to recovery from these events, I am committed to supporting a coordinated response to help businesses reopen and families rebuild.
The Delta Regional Authority has advocated for the expansion of technical assistance for federal resources. In addition to moving our application process online for added convenience, we are working with several federal partners to expand technical assistance so that every Delta community has the same opportunity to access federal resources.