Q&A with David M. Gipp, President, United Tribes Technical College (UTTC)
UTTC is a partner in the Upper Missouri Tribal Environmental Risk Mitigation project that recently received a $1.7 million award as part of the Obama Administration's $37 million Jobs and Innovation Accelerator Challenge, a multi-agency competition to support the advancement of 20 high-growth, regional industry clusters.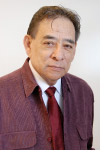 David M. Gipp
David M. Gipp is president of United Tribes Technical College, an intertribal, post-secondary vocational technical college for American Indian students and their families in Bismarck, ND. Born at Fort Yates, ND, Gipp is an enrolled member of the Standing Rock Sioux Tribe. His Hunkpapa Lakota name, Wicahpi Isnala, translates as Lone Star.
Q. The Upper Missouri Tribal Environmental Risk Mitigation project received a $1.7 million Jobs and Innovation Accelerator Challenge award to support a network to accelerate jobs and business development in natural resources and reduce unemployment in economically distressed tribal areas of the upper Missouri River basin. How will the United Tribes Technical College accomplish this?
A:There are three distinct activities that work toward accelerating jobs and business development in environment risk mitigation. The first is to train people in the field of environmental risk mitigation using a career ladder approach. This will allow project participants to meet and build upon short term goals and advance as far as a Bachelors degree.
The second strategy involves a particular group of tribal workers: tribal planners. This is an existing network that is key to reservation development. Tribal planners are responsible for building and sustaining economically healthy communities. The UM-TERM Project focuses on strengthening the understanding of tribal planners in the field of environmental risk mitigation. In turn, they can promote the conditions for growth in that field and help plan for mitigation projects in and around their communities.
The third strategy is to leverage Small Business Administration support that exists in the region. To this support will be added Native American-specific resources, such as the Indianpreurship Program, designed to help build businesses and succeed in tribal communities. Tribal communities in the region are characterized by high unemployment and low socio-economic conditions. They also have unique, cultural value systems that differ from the mainstream. High value is placed on families and relationships, Mother Earth and spiritual well being. These are important values that figure strongly in the definition of success and often differ from what is considered wealth in the mainstream.
Q. The project is designed to meet the region's need for qualified environmental technicians with the expertise to enable tribal entities to protect water rights, manage water and land resources, including mineral deposits and wildlife, and mitigate environmental risk. What is the current economic environment and what steps will be taken to turn it around?
A: The reservations and target areas served by the project are places where the norm is economic depression and generational unemployment. In some cases unemployment rates approach 90 percent. This project focuses on training people in the field of environmental risk mitigation, which plays an important role in achieving tribal self-determination and independent management of tribal resources. The project brings together local, private, federal, and state entities to help create the business and job opportunities.
Q. How is this partnership with federal agencies strengthening your efforts and what will the benefit be to Native American communities as federal, state, local, and tribal governmental agencies, and private businesses representing environmental fields connect and collaborate?
A: This project brings together the two most important aspects of business building and job creation: networking and education. It is rare that the two get to happen in one project, and by integrating the services of the collaborating entities it is anticipated that this holistic approach will be successful.