Special Feature
Building Stronger Economies through Technology: How EDA Helps
The dedication ceremony for the Ben Franklin TechVentures business incubator was held on October 20, 2011 in Bethlehem, Pennsylvania.
Historically, the economy of Pennsylvanias Lehigh Valley has been heavily reliant upon traditional manufacturing. The closure of two major employers, Bethlehem Steel Corp. and Mack Trucks, challenged Valley leaders to move to a more diversified, more technology oriented economy.
To promote this transition, EDA awarded a $6 million ARRA investment to the Ben Franklin Technology Partners of Northeastern Pennsylvania, to support the construction of a LEED silver certified addition to the existing Ben Franklin TechVentures incubator facility at Lehigh University's Mountaintop Campus. The addition will contain wet labs, electronic labs, a conference center and multitenant office space for incubator companies.
Ben Franklin manages an award winning ten incubator network, among the largest incubator networks in the U.S., in collaboration with other economic development organizations within its 21 county region. Based on past successes, Ben Franklin estimates that the EDA investment will assist in the creation of 200 jobs and to $10 million in private sector investment.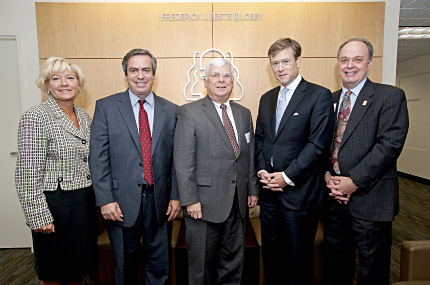 October 20, 2011- Deputy Assistant Secretary Erskine delivers remarks at the dedication ceremony for the Ben Franklin TechVentures business incubator in Bethlehem, Pennsylvania
Ben Franklin TechVentures® (BFTV), owned and operated by BFTP, has graduated 48 successful early-stage technology companies that together gross more than $408 million in annual revenue and have created 4,500 jobs. Twenty-six early-stage firms, employing 146 people, are currently located in Ben Franklin TechVentures. Ben Franklin TechVentures2, the essential 47,000-square-foot expansion of the original building that will open in Autumn 2011, will advance BFTP's ability to provide early-stage companies with reduced operating costs, business assistance, and the synergy of a business incubator. The new facility will allow BFTP to accommodate technology-based start-up companies that create as many as 200 jobs and retain 100 more in the first three years.
EDA-Grantee Ben Franklin TechVentures Named to Inc. Websites Top-10 List, Click here to learn more