Spotlight: Jobs and Innovation Accelerator Challenge


(October 11, 2011)
President Obama was in Pittsburgh and touted the $1.95 million Jobs and Innovation Accelerator Challenge investment to Southwestern Pennsylvania Revitalization, a partnership between the Pittsburgh Central Keystone Innovation Zone, the Hill House Association and the University of Pittsburgh, to build growth clusters around energy and health care.
Click here to read article.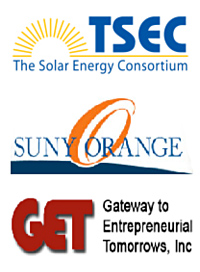 Discussing Process With Jobs and Innovation Accelerator Challenge Winner New York Renewable Energy Cluster (NYREC): Carl Meyer, President/CEO, The Solar Energy Consortium; Judy Osburn, Grants Director , Orange County Community College (SUNY Orange); Enrique Rob Lunski, President, Gateway to Entrepreneurial Tomorrows, Inc.
Q: In developing the Jobs and Innovation Accelerator Challenge, a key focus was to make federal funding more accessible by reducing the burden on applicants (e.g., allowing a single narrative capped at 50 pages to apply for EDA, ETA, and SBA funding). Is this something you found helpful?
Carl Meyer, President/CEO, The Solar Energy Consortium: Yes, the single narrative was very helpful. It allowed us to build consensus on what we were proposing. And it certainly saved some time.
Judy Osburn, Grants Director, SUNY Orange: After we got a better handle on the instructions, yes, it was very helpful.
Enrique Rob Lunski, President, Gateway To Entrepreneurial
Tomorrows: Yes.
Q: What were the opportunities and challenges you encountered in designing your proposal, coordinating with your partners, and applying?
Meyer: In designing our proposal, it quickly became clear that EDA needed us to marry our ongoing cluster work to one of the poorest communities in New York State. That was the challenge and it was daunting, to say the least, but we heard you loud and clear. The opportunities are substantial: we chose a city with a rich manufacturing history and a good base of motivated workers. As far as coordination with partners, that's what TSEC is all about so the grant played to our strength. We were able to mobilize fairly quickly.
We are excited about our plan and can't wait to get started.
Lunski: For GET, the biggest opportunity was becoming more educated on the services that each of the other partners provide while integrating our own specific missions into one comprehensive plan of action.
Q: Do you believe coordinated federal funding, such as the Jobs Accelerator, is an effective tool to encourage regional collaboration and accelerate job creation?
Meyer: Yes. Pooling funds from three agencies produced a sizable opportunity that got our attention, and it motivated us to put our best work forward.
Lunski: Yes, the concept of reaching out to several funding agencies with one proposal seems to work well. At the same time it encourages collaborations among various service providers so that more individuals can served.
This grant falls along the mission that GET has to help minorities and low income people start their own businesses in the underserved urban communities across the Mid-Hudson Valley region of New York State.
By focusing its work in the City of Newburgh - with one of the highest rates of unemployment and poverty in the Nation - the Jobs and Innovation Accelerator Challenge grant will help boost the city's economy from the ground up by providing employment opportunities in the renewable energy sector to a population that needs help the most.
GET looks forward to working together with TSEC, SUNY Orange and the City of Newburgh to advance the creation of jobs and new enterprises in the city. This could well be a model that other underserved urban areas can adopt to provide for the economic growth of their people and bring in new businesses.