Q&A:Deputy Assistant Secretary Matt Erskine
December 2012 Newsletter
Regional Innovation Strategies, at the Forefront of Economic Development, Yield Results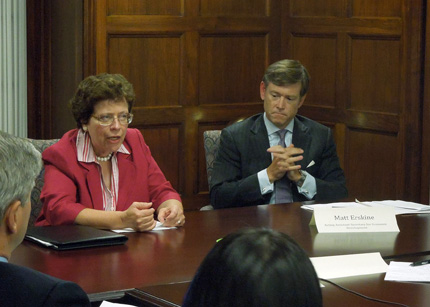 Acting Secretary of Commerce Rebecca Blank and Deputy Assistant Secretary Matt Erskine attend a quarterly meeting of the National Advisory Council on Innovation and Entrepreneurship in November.
Matt Erskine, of the Economic Development Administration (EDA), was appointed deputy assistant secretary of commerce and chief operating officer in September 2011. Before joining the Obama administration, Erskine worked in the private and public sectors, including serving as deputy secretary of the Virginia Department of Commerce and Trade. Erskine shared with us his thoughts about EDA's recent accomplishments and what he sees in store for 2013.
Q:What have been EDA's most significant accomplishments over the past year?
A: EDA has just closed out a fiscal year that's been more productive than ever. And in a time of tight budgets, economic challenges, and political gridlock, we were tremendously successful in fulfilling our core responsibility of partnering with our grantees to make long-term, merit-based catalytic investments that will equip America's regions to compete in the global marketplace. You can see that in the hundreds of grants we made this year under EDA's traditional development programs, which are helping communities find new engines of job creation and recover from the deepest economic downturn this country has experienced in generations. And you can see that in the important work we are doing to help eligible communities respond to and mitigate natural disasters through the $200 million that was appropriated to us by Congress to help them with long-term economic recovery and infrastructure support.
EDA was also instrumental this year in the continued implementation of the challenge grant programs that are an important part of President Obama's push to create an economy that is "built to last." In partnership with several other federal agencies, in 2012 we awarded $9 million to 13 winners of the Rural Jobs and Innovation Accelerator Challenge, $7 million to the seven winners of the 2012 i6 Challenge, $1 million each to three winners of the second Strong Cities, Strong Communities (SC2) Challenge, and $6.5 million to 10 winners of the Advanced Manufacturing Jobs and Innovation Accelerator Challenge.
Q:What is your vision for EDA for the next year?
A: There is a continued need for leadership on strategies and programs that support the long-term economic well-being of our country. Communities and regions cannot allow their future to be determined by chance. They need to rethink how they approach economic development. Many are already defining what they are good at and identifying what existing assets they can build on and leverage, what competitive advantages they possess, and what high-growth industries will be on the horizon. EDA will continue to play a pivotal role in that process by working with communities and stakeholders to fund planning studies and analyses; facilitate partnerships between business, higher education, and government; and provide grants for infrastructure when development plans are ready to go.
Our approach is working in countless places across the country. In Prince George County, Virginia, for example, a partnership between the federal government, the state government, the state's two largest four-year universities, and the local community college-together with local manufacturers-established the Commonwealth Center for Advanced Manufacturing. This center is addressing workforce and applied research issues, and it will support a new Rolls Royce facility that recently opened nearby. That new plant is manufacturing advanced components for aircraft engines, almost all of which will be exported. This is an excellent example of how a community-especially a distressed one-can leverage its strengths, bring together strategic partners, and create jobs. The economic benefits will reverberate throughout the region.
Of course, over the coming year EDA will continue to invest in competitive projects under its regular quarterly funding cycle. We will also make the funding opportunity announcement for the exciting Make it in America initiative that Acting Secretary Blank announced in late September. This $40 million, multi-agency challenge will help communities that are poised to attract a major investment, but just need a little more help to get the deal done. For example, maybe a city needs a better road to an industrial site, or maybe a manufacturer looking to relocate is seeking better information and technical assistance, or maybe local workers need a tailored training program to fill a particular skills gap. This competition will provide the critical infrastructure, strategic planning, capacity building, technical assistance, and workforce development resources that will help American communities be the desired home for more businesses. Up to 15 projects will be selected through this challenge to help create an economy built to last.
Q:What is EDA's biggest asset?
A: That's a simple answer: EDA's biggest asset is its people, with their expertise, intimate knowledge of local conditions, and person-to-person connections throughout the country. As the only federal agency with economic development as its sole mission, EDA plays an important role in strengthening regional economies so that the United States can out-innovate, out-build, and out-compete the rest of the world. And we take on that task with a very small staff working out of our six regional offices and our headquarters here in Washington, D.C. Our people possess unique knowledge that they bring to the communities we serve. Whether they are civil engineers, construction project managers, economic development representatives, or administrative specialists-they know their stuff! And when I speak with grantees, I hear over and over again how the knowledge and expertise of EDA's staff has worked not just to the benefit of the particular project being funded, but to the economic well-being of the entire surrounding community.