EDA Success Story
February 28, 2013 Newsletter
New Manufacturing Plant in Illinois Opens with EDA Help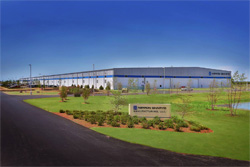 EDA was a key player in efforts that led to the recent opening of a new plant in Rochelle, Illinois, for Nippon Sharyo, a Japanese manufacturer of passenger railcars. The company, already active in the U.S. market, will be able to expand its U.S. operations, lower its production costs, comply with the "Made in America" requirements of many of its buyers, and—most important to the local economy—create 250 new jobs.
This is happening thanks in part to an EDA grant of $2.4 million that was awarded to the city of Rochelle to make improvements to the Rochelle Dual Access Railroad, a short-line railroad that services the industrial park where Nippon Sharyo's new plant is located. The rail line also serves other companies located there, including Coated Sand Solutions LLC, a resin-coating company affiliate of U.S. Silica Inc.
A strong working partnership between EDA and the city that has existed since at least 1995 has worked to create economic opportunity and jobs in this region. A $3 million EDA grant awarded to Rochelle in 2008, for example, helped to build an overpass that led to the creation of the 2,000 acre industrial area where Nippon Sharyo's new plant is located.
This history of collaboration is a great example of how good things happen when the right partners in a regional economic ecosystem come together to create jobs and support economic growth.