Investing in Manufacturing
May 2013 Newsletter
Innovation Institutes Will Support Manufacturing and Create Jobs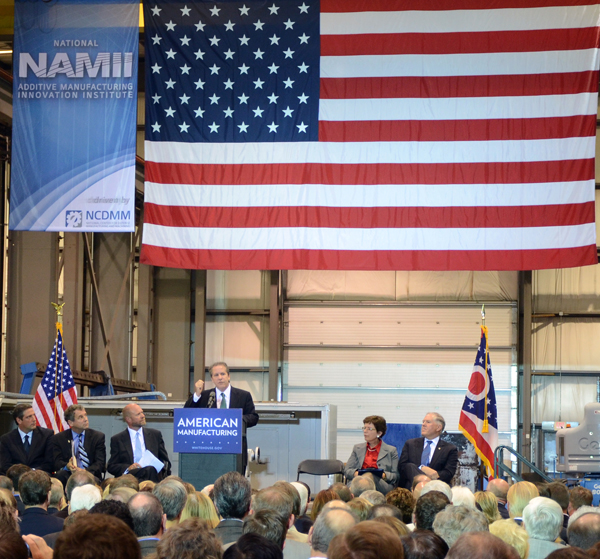 White House National Economic Council Director Gene Sperling speaks at an event in August 2012 announcing that Youngstown, Ohio, had been chosen as the site for a major federal institute for manufacturing innovation. (photo courtesy Youngstown State University)
In February, President Obama proposed a one-time, $1 billion investment to launch a network of 15 manufacturing innovation institutes across the country. Leveraging the strengths of a particular region, each institute will bring together businesses, universities and community colleges, and government to co-invest in the development of world-leading manufacturing technologies and capabilities that U.S.-based manufacturers can apply in production.
In August 2012, a pilot institute was launched in Youngstown, Ohio, with a $45 million funding commitment from five federal agencies, led by the Department of Defense. The winning partnership of firms and universities from Ohio, Pennsylvania, and West Virginia was one of 12 teams that applied.
While the full proposal to establish 15 institutes will require Congressional action, the president announced that he will take executive action to launch three new manufacturing innovation institutes in 2013. These will build on the success of the pilot institute, and will be a co-investment between federal agencies, led by the Departments of Defense and Energy, and the private sector. Their initial focus will be on manufacturing technologies that also address critical national security and energy needs.
To read more about the proposed manufacturing innovation institutes, click here.