Putting Americans to Work — Q&A: Making the United States a Magnet for Job Creation
May 2013 Newsletter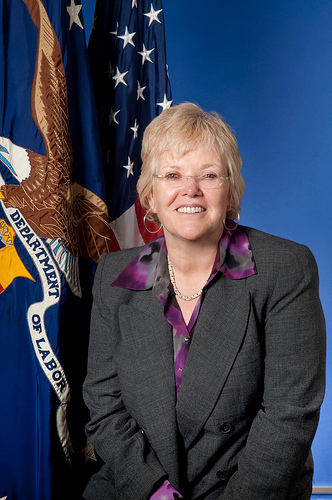 Jane Oates
In April 2009, President Obama nominated Jane Oates to join the leadership team at the Department of Labor. Confirmed as Assistant Secretary for Employment and Training in June 2009, she leads the Employment and Training Administration (ETA) in its mission to design and deliver high-quality training and employment programs for our nation's workers. Prior to her appointment, Ms. Oates served as executive director of the New Jersey Commission on Higher Education and senior advisor to Governor Jon S. Corzine. Ms. Oates also served for nearly a decade as senior policy advisor for Massachusetts Senator Edward M. Kennedy, where she worked on major workforce initiatives, including the Workforce Investment Act of 1998.
Assistant Secretary Oates recently answered some questions about the administration's efforts to prepare American workers, especially women, for jobs in growing industries, and the successful collaborations her agency has undertaken in partnership with EDA and other federal agencies.
Question: How has the U.S. Department of Labor's Employment and Training Administration advanced President Obama's commitment to better position workers in general, and women in particular, for success in the global workplace?
A: In his State of the Union address, President Obama said the United States must be a magnet for job creation. Having a skilled workforce is critical to encouraging more business development and investment in this country and will ensure our ability to compete in the global marketplace. Over the past several years, the U.S. Labor Department has invested billions of dollars to prepare workers in high-growth and emerging industries like health care, information technology, green jobs, and advanced manufacturing. As we've made these investments, we have sought to ensure that women, veterans, minorities, and other vulnerable populations benefit from these training opportunities.
President Obama, former Labor Secretary Hilda Solis, and now Acting Labor Secretary Seth Harris have made it a priority to ensure access to high-wage occupations in science, technology, engineering, and mathematics (STEM) jobs is available to more women. This is one step toward the administration's goal of reducing the wage gap between men and women. Through our efforts, we are seeing more women participate in registered apprenticeship programs—learning the latest skills in biosciences, IT, and welding, among others skills.
More broadly, the Employment and Training Administration, and its state and local workforce partners, funds about 2,700 American Job Centers across the country that offer training and employment services to workers and jobseekers. As we recover from one of the worst recessions in the country's history, these centers are providing critical training assistance, job search advice and resources, and information about unemployment benefits to help workers and their families get back on their feet.
Question: What is being done to close the skills gap between today's workers and the needs of employers in emerging industries, particularly for women? Can you cite some examples of training programs?
A: I'm excited about many of ETA's initiatives that are preparing workers for growing industries. In 2011, ETA launched the Trade Adjustment Assistance Community College and Career Training initiative that made available $2 billion over four years in grants to community colleges and universities around the country to develop and expand innovative training programs. By partnering with local employers, these two-year degree granting institutions are able to design a curriculum that ensures these programs equip students with skills employers are actually looking for in growing fields like advanced manufacturing, transportation, and health care.
The department has also made investments through the Women in Apprenticeship and Nontraditional Occupations program. These grants are supporting innovative projects that improve the recruitment, hiring, training, employment, and retention of women in apprenticeships—paving the path to good careers in thriving industries where women typically account for only a quarter or less of the workforce
Initiatives like these are a great example of what President Obama described in his State of the Union address, when he talked about partnerships that promote the development of "skills today's employers are looking for to fill the jobs that are there right now and will be there in the future."
Question: The U.S. Departments of Labor and Commerce have collaborated on various inter-agency initiatives, such as the Jobs and Innovation Accelerator Challenge. What will be the long-term impact on America's workforce?
A: The Jobs and Innovation Accelerator Challenge is a great example of federal agencies working together to promote economic strength at a local or regional level. Through the initiative, we've provided tens of millions of dollars in grants to advance training in high-growth areas such as advanced manufacturing, information technology, aerospace, clean technology, and other fields. The training has benefits at multiple levels. Students emerge with marketable skills. Employers have access to a greater pool of skilled, knowledgeable workers. The local- and regional-level focus on this initiative means that communities actively identify the kind of training that would have the greatest benefit for their workers and businesses.
[Recently], a number of agencies, including the Departments of Labor and Commerce, announced the Make it in America Challenge. This is a $40 million grant initiative to encourage the development of critical infrastructure, strategic planning, capacity building, and technical assistance that will attract business investment and job creation in local communities around the country.
Through these collaborative efforts, we are creating an environment for economic growth and preparing a workforce that meets the needs of industries that are expanding by bringing economic development and workforce development together in a coordinated manner to strengthen the competitiveness of regional economies. A stronger workforce means stronger American businesses and a stronger American economy.