Success Story
May 2013 Newsletter
EDA-Supported "Energy House" in Delaware Provides Training to Workers in a Growing Sector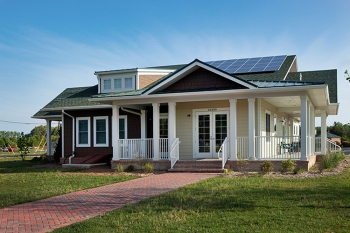 Energy House at Delaware Technical and Community College's Georgetown campus
In his State of the Union message to Congress in February, President Obama emphasized the importance of worker training to meeting the needs of today's economy and to ensuring America's competitiveness. An EDA-supported training facility that opened last year at Delaware Technical and Community College's campus in Georgetown, Delaware, is an excellent example of the long-term investments that are being made to support the president's goal.
Energy House, designed to resemble an actual residence, serves as an educational lab where students can learn about innovative, energy-efficient technologies and renewable materials. In addition to the standard array of living room, kitchen, bedroom, and household appliances, there are also two state-of-the-art classrooms, a conference room, and see-through wall galleries that demonstrate the technologies and materials used in the building's construction. Cutting-edge green technologies—such as solar systems, wind power generation equipment, a living green roof, and geothermal options—are an integral part of the building's construction.
The opportunities in the green technology industry are promising. A recent study by the Brooking Institution found that the sector employs about 2.7 million workers nationwide, and is experiencing healthy growth—adding about half a million jobs between 2003–2010, an annual growth rate of 3.4 percent. Median wages for green jobs, according to the Brookings researchers, were 13 percent higher than median U.S. wages overall. And many of these so-called "green collar" jobs are available to skilled individuals with relatively little formal education.
Development of the Energy House was an important collaboration for the state government, local leaders, Delaware Technical and Community College, and EDA. As a result of the joint investment, Delaware now has an outstanding resource where job seekers—from high school graduates, to career changers, to laid-off workers—can get the skills they need to thrive in the growing green technology sector.