Highlight
June 2013 Newsletter
Obama Administration Investments in Regional Innovation Clusters
The 2013 Economic Report of the President noted that "active government policies helped the economy avoid an even deeper recession and have played an important role in supporting the recovery." One of these policies has been the Obama administration's strong support of regional innovation clusters (RICs) by means of coordinated multi-agency investments.
EDA has been a key player in these efforts, both alone and in concert with other federal agencies. In FY 2009, for example, EDA invested $50 million from its Recovery Act supplemental funds to promote the development of RICs.
Then, in 2011, in collaboration with other federal agencies, EDA developed and issued the first Jobs and Innovation Accelerator Challenge. This initiative has subsequently gone through two additional funding cycles, providing crucial support to 43 projects throughout the country providing a total of $66 million to support the advancement and growth of RICs.
Solo projects from other federal agencies have also made support of RICs their prime focus. In 2010, the Small Business Administration created a $12 million pilot program to support small business participation in RICs. The two-year program funded 10 clusters with $600,000 each per year. Three of the clusters, called "Advanced Defense Technology Clusters," are specifically focused on meeting the needs of the defense industry, while the remaining seven, termed "Regional Innovation Clusters," focus on innovative and leading technologies in a variety of industry areas.
Some initiatives have focused on green technology and energy efficiency. In 2010 the Greater Philadelphia Innovation Cluster, led by Penn State University, was the winner of the administration's ground-breaking multi-agency Energy Regional Innovation Cluster (E-RIC) competition. The competition, with funding coming from the Department of Energy and six other federal agencies, awarded a total of $129 million to the Philadelphia project over five years. This funding included $3 million from EDA. Headquartered in Philadelphia's Navy Yard, the project—the Energy Efficient Buildings Hub—has a dual mission to improve energy efficiency in buildings and promote regional economic growth and job creation.
Another green initiative was launched in 2011, when the administration unveiled its $12 million i6 Green competition. Bringing together the resources of six federal agencies, its focus was on funding Proof of Concept Centers to promote green growth, advance cluster development, and strengthen the economic ecosystems of America's regions. There have been three i6 challenges since 2010, providing a total of $31 million to 19 projects.
Smart investments and public-private partnerships are helping turn the economy around from the nation's deepest recession since the Great Depression. With payroll employment rising by more than 2 million, an unemployment rate at its lowest level in four years, the housing sector showing clear signs of turning a corner for the first time in more than five years, and consistent GDP growth for 15 consecutive quarters, it's clearly a strategy that has paid off for the American economy.
EDA Investment Supports Philadelphia's Energy Regional Innovation Cluster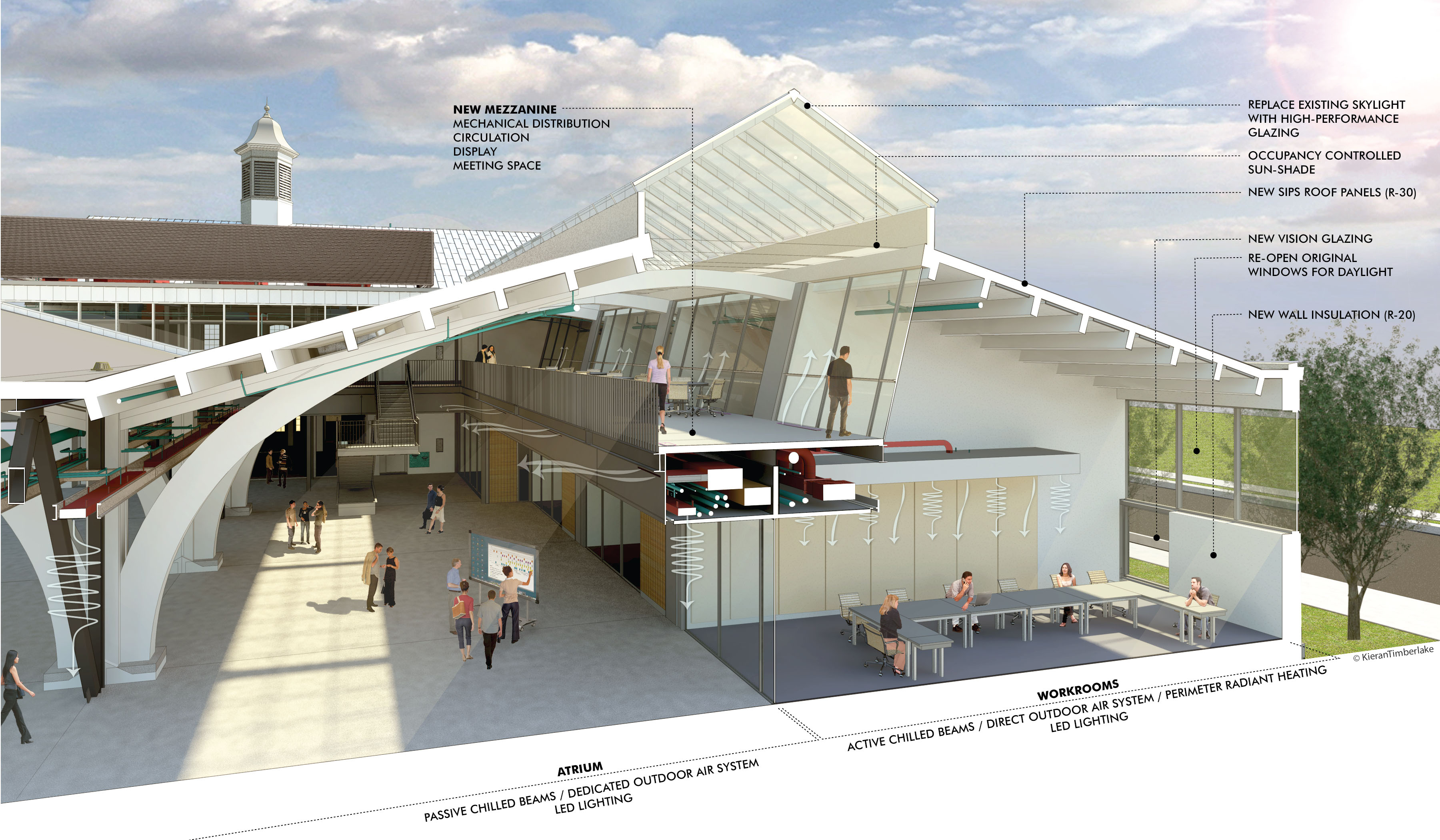 Artist's rendering of the Energy Efficient Buildings Hub in Philadelphia
An important milestone in successful federal investment in regional innovation was reached on April 24 at the Philadelphia Navy Yard, when EDA Deputy Assistant Secretary Matt Erskine joined other officials at groundbreaking ceremonies for the Energy Efficient Buildings Hub (EEB Hub), the winner of the Obama administration's Energy Regional Innovation Cluster (E-RIC) competition. Its goal is to develop the means and methods to reduce energy use in commercial buildings by 20 percent by 2020. EDA has invested $5 million in the EEB Hub to support the EEB Hub Commercialization Center, which fosters and promotes the commercialization of energy-efficient building technologies by assisting companies in launching business ventures that exploit market opportunities.