Special Features
June 2013 Newsletter
Joplin, Missouri, to Rebuild with Help from $20 Million EDA Investment
President Obama visits Joplin, Missouri, in 2011.
Deputy Assistant Secretary Matt Erskine traveled to Joplin, Missouri, on May 22 to announce a $20 million EDA grant to the city to help redevelop the 20th Street corridor. Two years ago Joplin was devastated by a tornado that caused 161 deaths, more than 900 injuries, the loss of more than 7,000 houses and apartments, and severe disruption to the city's economy. The city's 20th Street corridor project includes a new public library, community resource center, and tornado shelter. It is an integral part of Joplin's long-term master plan for recovery, incorporating mixed-use space for retail, residential, dining, and entertainment uses. It will also support green development in the city. The grant follows previous EDA assistance to the Joplin area in the aftermath of the 2011 tornado, including $341,000 to support the hiring of regional and local disaster recovery coordinators, and $3 million to support the rebuilding of the Joplin School District's Franklin Technology Center, a career training center. The new EDA grant is part of a $200 million appropriation made by Congress to help communities that received a major disaster designation in fiscal year 2011 with long-term economic recovery and infrastructure support. For more information on EDA's role in disaster recovery, visit the EDA website.
"No Longer Fly-Over Country": BioSTL Sees a Surge in Biotech Activity in Missouri
A winner of the inaugural i6 Challenge in 2010, BioSTL in Saint Louis, Missouri, through its nonprofit arm, BioGenerator, is busy supporting entrepreneurial activity in the St. Louis region's biotech sector. According to an interview with BioSTL's president and CEO, Donn Rubin, the organization assisted 36 new start-ups in 2012, investing $4 million. These companies attracted an additional $110 million in outside investment. An audio file of the complete interview with Rubin that was aired on radio station KMWU-FM is available for listening here (MP3).
Smart Growth Project in Downtown Minot, North Dakota, Supported by $18 Million EDA Investment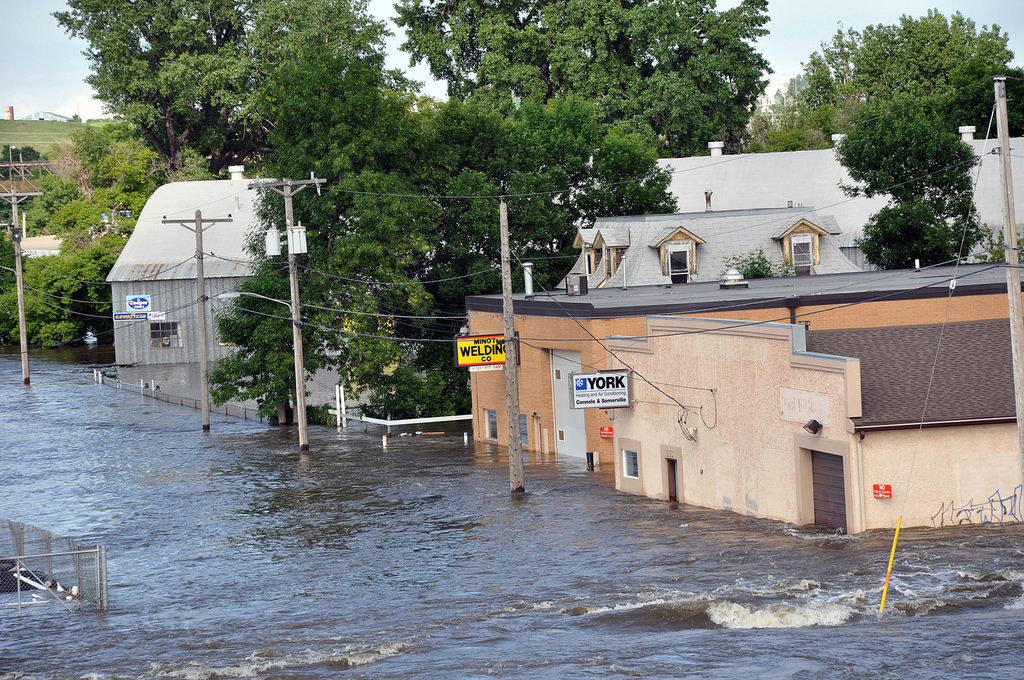 Flooding in Minot, North Dakota, in June 2011 as seen from the Third Street bridge (U.S. Army Corps of Engineers photo).
Deputy Assistant Secretary Matt Erskine joined members of Congress and local officials in Minot, North Dakota, on May 29 to announce an $18 million EDA disaster recovery investment with the city of Minot and the Souris Basin Planning Council. The EDA project will fund the replacement of water, sewer, and lighting infrastructure and replace all curb, gutter, sidewalks, streets, and traffic lights within downtown Minot as part of the Downtown Minot Smart Growth Development Disaster Recovery project. It is estimated that this project will attract $35 million in additional private investment and create between 60 and 75 new jobs, with a total economic impact in the range of $40 million to $60 million. Minot is the regional commercial center for northwest North Dakota and was impacted by a historic flood along the Mouse River in 2011. The funding comes from a $200 million appropriation made by Congress to help communities affected by a major disaster in fiscal year 2011.