Highlight
July 2013 Newsletter
EDA's 2012 Annual Report Published
With $297 Million Invested in 674 Projects during Fiscal Year 2012, EDA Continued Its Strong Support of Regional Business Growth and Job Creation
In fiscal year 2012, EDA awarded approximately $297 million to support 674 investments through its Economic Development Assistance Programs and disaster relief funding, according to its just-released annual report to Congress.
"The success of these investments shows that when the right partners in regional economic ecosystems come together and increase their level of interaction, good things happen for job creation, investment, and improved prosperity," said Deputy Assistant Secretary Matt Erskine. "It is through such efforts that EDA is working to ensure that America is not just able to face the challenges of the 21st century economy, but to prosper and grow for years to come."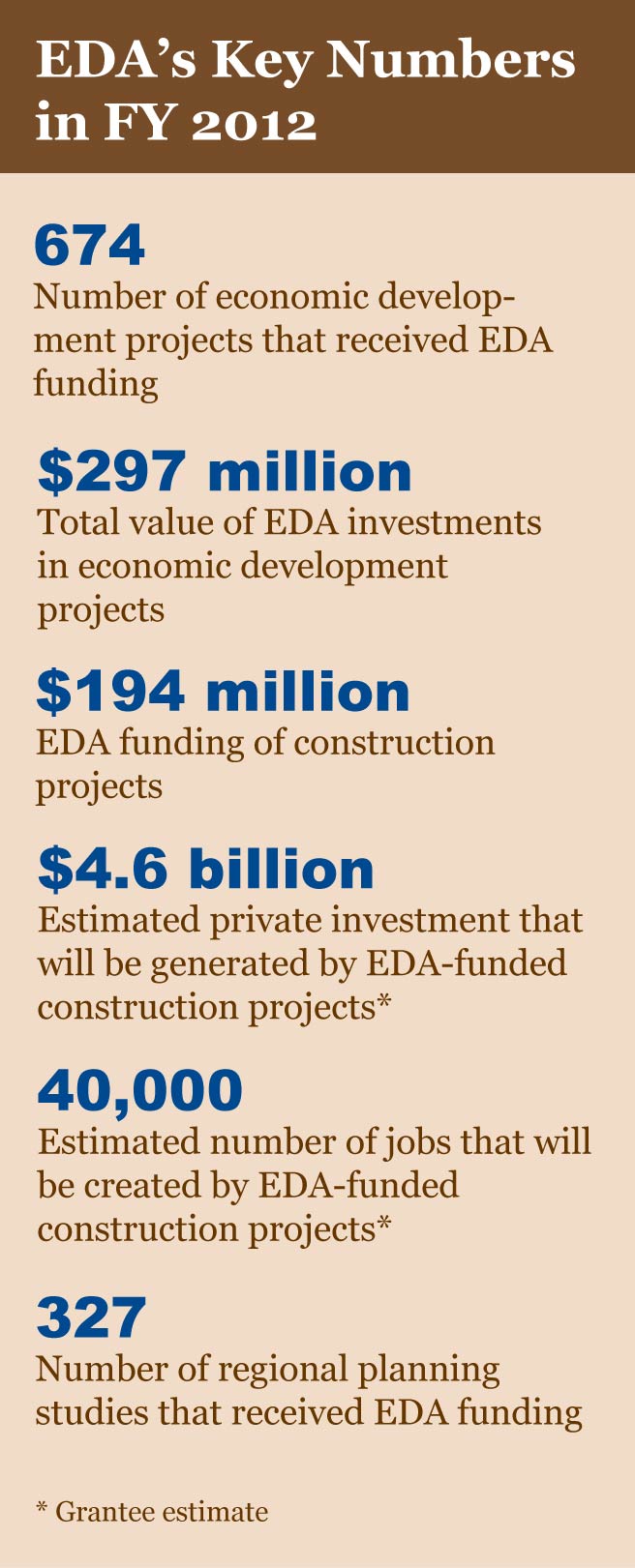 The successes of two key Obama administration initiatives that EDA led in FY 2012, both of which focused on supporting regionally-based development efforts, are featured in the report: The Rural Jobs and Innovation Accelerator Challenge and the Advanced Manufacturing Jobs and Innovation Accelerator Challenge.
The Rural Jobs and Innovation Accelerator Challenge marshaled the resources of EDA and nine other federal agencies to make $9 million worth of investments in 13 organizations across the country. Likewise, the Advanced Manufacturing Jobs and Innovation Accelerator Challenge brought together EDA and five other federal agencies to award $20 million to 10 public-private partnerships.
These two challenges are making long-term investments to better equip America's regions to compete in both the domestic and global marketplaces. And they build on EDA's nearly 50-year history of supporting regionally-driven economic development strategies by focusing on creating opportunities that encourage regions to plan for their long-term stability, build on their unique assets, and create the conditions for the private sector to flourish and create jobs.
EDA's investments in FY 2012 included construction projects that many communities determined would enhance their local economic development efforts. These investments totaled approximately $194 million and are expected to help create or retain approximately 40,000 jobs and generate nearly $4.6 billion in private investment, according to grantee estimates.
Another important aspect of EDA's accomplishments detailed in the report is how the agency responded to the needs of local communities by funding regional planning strategies that are helping them make smart decisions regarding their long-term economic growth. In FY 2012, EDA made 327 awards to regions and communities, providing them with $29 million to develop such plans.
This year's annual report is an exclusively web-based resource. By means of an interactive map of the United States it provides readers with the ability, with one click, to quickly retrieve a summary of EDA's FY 2012 investments in any given state as well as information on a featured investment there. The traditional sections of EDA's annual report—such as tables listing investments by state, program overviews, etc.—continue to be available in this new format.
The purpose in publishing this way was to provide readers with a greater level of interactivity and usefulness. Rather than simply providing general information about EDA's programs and initiatives, this format more readily provides detailed information at the local level, along with a concrete example of what EDA is doing there, to more vividly demonstrate the impact of its programs.
To see EDA's FY 2012 annual report, visit the EDA webpage.