Spotlight
August 2013 Newsletter
Laying the Foundation for a Stronger, More Durable America
In recent visits to Illinois and Tennessee, President Obama outlined strategies for strengthening America's middle class by rebuilding public infrastructure, supporting the manufacturing sector, and training workers for the economic challenges ahead.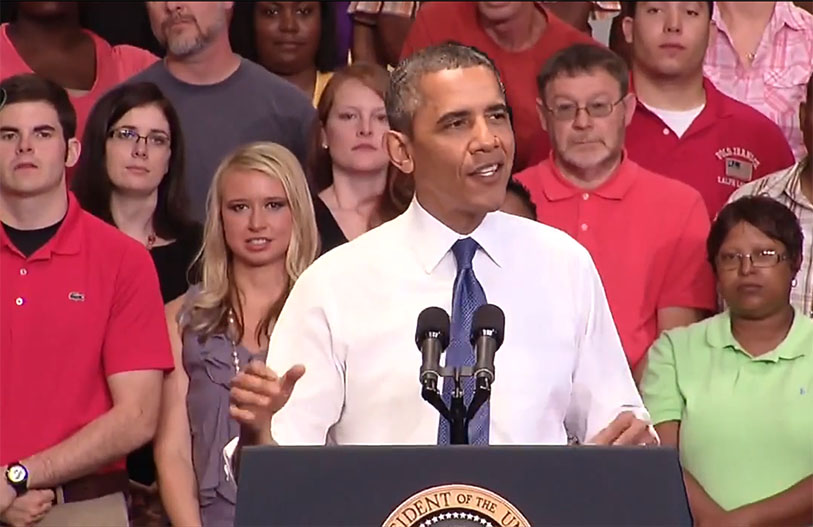 President Obama at Knox College, Galesburg, IL, July 24, 2013
In speeches last month in Galesburg, Illinois, and Chattanooga, Tennessee, President Obama detailed his strategy for supporting job creation and U.S. competitiveness to benefit the middle class. "We've started to lay a new foundation for a stronger, more durable America—the kind of economic growth that's broad-based, the foundation required to make this century another American century," said the president in Chattanooga on July 30, when he spoke to a gathering of Amazon employees.
Noting that as a share of the economy we currently invest less in our infrastructure than we did two decades ago, the president called for significant investments, including:
a "Fix It First" focus on reducing the backlog of deferred maintenance on highways, bridges, and transit systems
a "Rebuild America Partnership" to leverage private-sector investment
new "America Fast Forward" bonds to pay for modernized schools.
Support for the U.S. manufacturing sector was another critical strategy highlighted by the president. "We want to create not just 15 manufacturing innovation institutes that connect businesses and universities and federal agencies to help communities left behind by global competition to become centers of high-tech jobs. Today, I'm asking Congress to … triple that number from 15 to 45—these hubs—where we're getting businesses, universities, communities all to work together to develop centers of high-tech industries all throughout the United States that allow us to be at the forefront of the next revolution of manufacturing."
Job training was another critical element cited by the president as a cornerstone of a strong middle class: "An education that prepares our children and workers for the global competition that they're going to face." His proposals include connecting 99 percent of U.S. students to high-speed Internet over the next five years, partnering with educators and entrepreneurs to make sure that high school students are equipped with the skills required for a high-tech economy, and pushing new efforts to train workers for the changing job market.
In his weekly address on July 27, the president summed up the importance of these efforts: "If we don't make the investments necessary to make America a magnet for good jobs—in education, and manufacturing, and research, and our transportation and information networks—we might as well hit the 'pause' button while the rest of the world forges ahead in a global economy."