Success Story
August 2013 Newsletter
Vermont Furniture Manufacturer Rebounds with Help from EDA-Supported Organization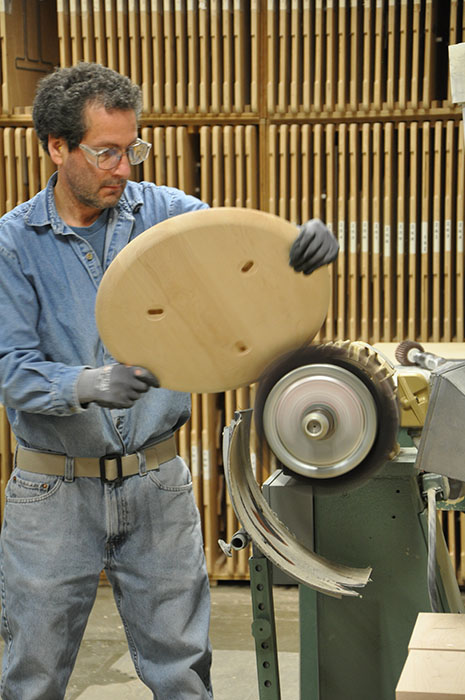 Worker at Newport Furniture Parts
In 2011, Newport Furniture Parts, a family-owned wood products manufacturer located in Newport, Vermont, was suffering from declining sales and an overall lack of competitiveness in the market for wood furniture and components. The company's chief executive officer, Dave Laforce, realized that management and staff were being stretched too thin by an increasingly cutthroat economic environment brought on by cheap imports. Newport's long-established relationships with customers and the local community were suffering as a result. Realizing that these developments were eroding one of the company's most important competitive advantages—its established networks of customers and workers—Laforce reached out to the Regional Wood Products Consortium for help.
The Consortium is a collaboration between the Northern Forest Center, a nonprofit organization, and the wood products manufacturing industry in the Maine, New Hampshire, Vermont, and northern New York. The Center helps businesses and communities in rural areas of northern New England and New York benefit from forest-based economic and conservation initiatives. In the wood products sector, the Center helps companies innovate to be more competitive and to safeguard the valuable jobs the industry offers in rural communities.
The Center matched Newport Furniture with Dovetail Partners, Inc., founder Dr. Jeffrey Howe, who engages small and medium-sized wood products companies in strategic planning and in creating what he refers to as "learning organizations."
Laforce says that working with Dr. Howe allowed the company to realize a "transformational" strategic and cultural shift, courtesy of leadership retreats, and many hours of coaching and strategic business planning assistance. New organizational and management standards dramatically improved the company's competitiveness in the marketplace. Within one year, the company increased sales 25 percent, improved fulfillment times 42 percent, and hired employees using new human resource strategies. Newport Furniture Parts now boasts annual sales of $8.5 million, and employs 75 people in its downtown Newport facility.
The Northern Forest Center has helped Newport Furniture and other manufacturers bring innovation into their business processes—cutting costs, speeding delivery times, building market share, and ultimately strengthening their competitive edge. The Economic Development Administration (EDA), in partnership with the U.S. Department of Agriculture, is furthering that success through $708,750 in investments made under the 2012 Rural Jobs and Innovation Accelerator Challenge. These funds are enabling the Center, the Northern Community Investment Corporation, and several other organizations based in New England to work with entrepreneurs and regional marketing programs to develop new, high-growth businesses by advancing commercialization of research, providing technical assistance, and setting up workforce training programs.
The Center is offering the program to manufacturers in northern New England for the first time through a partnership with the Woodwork Career Alliance (WCA), a national organization that is supplying standards and a credentialing system.
With a new company culture as a base, lean manufacturing practices promising the potential of further growth, and the prospect of a well-trained and credentialed workforce for the future, Newport Furniture Parts—in business now for 50 years—is looking at a much brighter future for its owners and its employees.