Q&A: Partnering to Attract and Retain Foreign Direct Investment
September 2013 Newsletter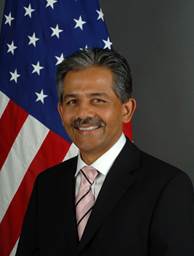 Vinai Thummalapally, executive director of SelectUSA
Ambassador Vinai Thummalapally serves as executive director of SelectUSA, a part of the U.S. Department of Commerce's International Trade Administration. SelectUSA is the U.S. government-wide initiative to attract and retain business investment in the United States. Originally from Hyderabad, India, Ambassador Thummalapally brings a wealth of experience from both the private and public sectors to his job. Immediately prior to coming to SelectUSA, he served as ambassador to Belize from 2009 until 2013. Before that appointment he served as president of MAM-A Inc., (formerly Mitsui Advanced Media), the nation's leading manufacturer and distributor of archival recordable optical discs. He also served as the plant manager of WEA Manufacturing Inc., was manufacturing manager of Disc Manufacturing, Inc., and holds U.S. patents for the design of optical disc manufacturing. Recently, Ambassador Thummalapally answered some questions about SelectUSA, its role in promoting investment in the United States, and the SelectUSA Summit scheduled to be held in Washington, D.C., October 31–November 1.
Q: What impact does foreign investment have on the U.S. economy?
Foreign direct investment (FDI) plays an important role in the U.S. economy. It leads to the creation of jobs, an increase in wealth and living standards, and overall growth and innovation that drive the U.S. economic competitiveness. The United States is the largest recipient of direct investment in the world. In 2012, the total stock of direct investment into the United States totaled nearly $2.7 trillion. Currently, majority-owned subsidiaries of multinational firms with U.S. operations employ more than 5.6 million workers and pay an average annual compensation of $77,600. In 2011, alone, U.S. subsidiaries of global firms spent more than $45 billion for research and development and accounted for 16.3 percent of U.S. goods exported in 2011.
SelectUSA Investment Summit

Pre-registration is now open for the SelectUSA 2013 Investment Summit. This first-ever event will take place in Washington, D.C., on October 31 and November 1, 2013, and will connect international and domestic investors and firms with economic development organizations from across the country in an effort to promote investment here and support the creation of American jobs. Participants will hear from world-class business leaders, senior administration officials, and industry and technical experts. The Summit will also feature an exhibition area for state, local, and regional economic development organizations and matchmaking sessions. For more information and to register, visit the SelectUSA Investment Summit's website.
Q: What are the things that make the United States attractive to a potential foreign investor? What do potential foreign investors look for in U.S. regions?
With renowned educational institutions, growing industry clusters, first-class research and development centers, and a productive work force, regions across the country offer investors a diverse mix of incentives to meet their needs. Businesses that work with SelectUSA state a diversity of reasons for their ultimate location decision. For example, in 2012 Voestalpine Metal Forming, an automotive industry supplier based in Austria, broke ground for their new U.S. plant in Cartersville, Georgia. The investment totals $62 million and will create 220 new jobs. For Voestalpine, the location's proximity to the production facilities of major automotive manufacturers and the business-friendly environment were both very important. Also in 2012, Canadian AGS Automotive System (AGS) announced plans to open an impact beam assembly facility in Flint, Michigan. The company's total investment was $21 million, creating 90 new jobs and supporting 50 existing jobs. AGS noted that seamless support from the state, county and city facilitated their decision to expand in Michigan. SelectUSA facilitated both the AGS expansion and Voestalpine location through the SelectUSA Ombudsman and Firm Counseling services.
Q: What role does the federal government have to play in attracting foreign investment to the United States, and why?
While U.S. states, regions, and cities have a strong legacy of pursuing and winning business investment projects, having a full wrap-around approach to serving investors is imperative as competition for global investment increases. With SelectUSA, state, regional, and local efforts are supported at the national level now more than ever. SelectUSA promotes the United States as the best place in the world to invest, and helps level the playing field for U.S. regions competing with foreign locations for investment projects. For example, through the Advocacy Service, SelectUSA worked with Louisiana officials to advocate for Sasol, the South African energy company, to locate its gas-to-liquids (GTL) plant in the United States rather than in a foreign location. U.S. economic development organizations (EDOs) can rely on SelectUSA as a single point of contact at the federal level to coordinate business investment-related resources across all agencies of the U.S. federal government. SelectUSA provides firms with comprehensive information on establishing and operating a business, information on federal programs and services available, and guidance on the competitive and regulatory landscape of doing business in the United States. SelectUSA is part of the International Trade Administration's U.S. Commercial Service, which has offices in more than 70 countries around the world. Through SelectUSA, U.S. EDOs can leverage this network to support their own efforts to attract foreign direct investment (FDI).
Q: How can regions and localities best work with SelectUSA?
SelectUSA is a resource for U.S. EDOs and offers a suite of services to support their investment attraction and retention efforts. When working with a potential or existing investor and issues arise involving federal rules, regulations, programs or activities, EDOs can refer cases directly to the SelectUSA Ombudsman service. SelectUSA also coordinates opportunities for U.S. regions to promote their locations in target markets through the Single Location Promotion (SLP) service. In-market experts help U.S. regions develop a customized SLP scope of services, including individual meetings with government representatives and firms identified by the EDO, briefings, events, and other activities. Commercial Service offices around the world also offer SelectUSA Facilitated Investment Missions (FIMs) to provide EDOs and jurisdictions with unique international promotion opportunities and access to potential investors. These services offer participants market insights, investor connections, one-on-one business appointments, and networking events. To learn about upcoming FIMs, see the "upcoming events" section on the SelectUSA website, or sign-up for the monthly newsletter. Finally, as subject-matter experts, SelectUSA staff can help EDOs successfully recruit and retain investment—through sharing investment-strategy best practices, developing customized reports, and sharing FDI trends.
Q: The SelectUSA 2013 Investment Summit takes place next month. What are the goals and objectives of the summit, and how will participants benefit from it?
The SelectUSA 2013 Investment Summit is a first-of-its-kind, national-level event intended to connect businesses and investors from around the world with U.S. economic development organizations at the state, regional, and local levels. The Summit takes place October 31–November 1, 2013, in Washington, D.C. and will be hosted by the U.S. Department of Commerce's International Trade Administration, and SelectUSA. We are very excited to have a prominent line-up of CEOs who will participate in the Summit, including Laurence Fink of BlackRock, Daniel Doctoroff of Bloomberg, Douglas Oberhelman of Caterpillar, Inc., Andrew Liveris of Dow Chemical Company, Eric Spiegel of Siemens Corporation, and William (Bill) Simon of Walmart U.S. In addition, Secretary of State John Kerry, Secretary of the Treasury Jack Lew, and U.S. Trade Representative Michael Froman will join Secretary of Commerce Penny Pritzker at this important event. Plus, EDOs from 42 states plus the District of Columbia and Puerto Rico are lining up to attend the Summit. U.S. EDOs will benefit from unique networking opportunities, one-on-one meetings with potential investors, moderated panels, and discussions on the latest information on all aspects of investment. Exhibits are open to U.S. EDOs through their respective state economic development agencies. To pre-register and for more information, please visit www.selectusasummit.com/.
Q: How do SelectUSA services and EDA programs uniquely help U.S. regions to attract and retain jobs?
The U.S. Economic Development Administration (EDA) and SelectUSA closely partner to help U.S. regions develop sound investment strategies, competitive environments, and connection with potential investors. Together, our complementary programs and services help regions successfully attract and retain investment. For example, EDA programs can provide catalytic funding to communities to upgrade physical infrastructure, often a crucial piece in attracting new industry or encouraging business expansion. Through SelectUSA, that same region has an opportunity to meet potential investors and promote business opportunities through developing an SLP event in target markets, participating in a FIM, or attending the SelectUSA 2013 Investment Summit. EDA also offers important funding to help regions develop long-term comprehensive economic development strategies (CEDS). The CEDS is designed to bring together the public and private sectors in the creation of an economic roadmap to diversify and strengthen regional economies. SelectUSA can support regions as they develop their CEDS through the EDO counseling service. This help could include, for example, assistance in conducting a global competitiveness assessment and effectively incorporating strategies focused on retaining and attracting investment, or establishing competitive international positioning.