Spotlight
September 2013 Newsletter
Atlanta's Global Center for Medical Innovation Helps Bring Innovations to Market
In a recent visit to Atlanta, Secretary of Commerce Penny Pritzker saw first-hand how this EDA grantee and i6 winner is bringing together engineering and bioscience expertise to help entrepreneurs take their ideas from concept to market.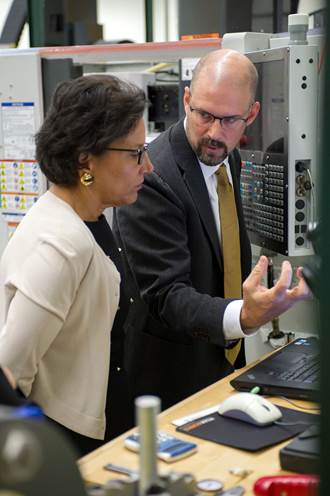 At the Global Center for Medical Innovation in Atlanta, Georgia on August 23, Secretary of Commerce Penny Pritzker views a prototyping machine.
On August 23, Secretary of Commerce Penny Pritzker visited the Global Center for Medical Innovation (GCMI) in Atlanta, Georgia, as part of her nationwide "listening tour." GCMI is an independent, nonprofit organization founded in 2010 that works with universities, research centers, and investors to help accelerate the commercialization of innovative medical technology.
In 2010, EDA awarded GCMI a $1.3 million grant that was critical to the organization's creation. These funds were matched by the Georgia Research Alliance, a public-private organization that supports development of the technology industry in Georgia. The same year GCMI was also awarded a $1 million federal grant as part of the multi-agency i6 Challenge, which helped GCMI grow to where it is today. The i6 Challenge was launched to support proof-of-concept centers and encourage and reward innovative, groundbreaking ideas that accelerate technology commercialization, new venture formation, job creation, and economic growth across the United States.
Located adjacent to the Georgia Tech campus, GCMI has a 12,000-square-foot facility that contains clean rooms and a state-of-the-art machine shop for prototyping and small-scale manufacturing of medical devices for preclinical studies. The center's rapid prototype machine is a 3D printer that enables innovators and entrepreneurs to bring their ideas from concept to reality in a matter of hours.
Since it opened its doors in 2011, GCMI has helped many companies develop their ideas and products, and currently houses four startups. Among its notable activities are a relationship with Georgia Tech and Children's Healthcare of Atlanta to develop and commercialize new medical devices for the pediatric market, and a project to help an Atlanta-based entrepreneur and inventor from Georgia Tech develop a functional prototype to help quadriplegics gain greater mobility.
For Pritzker, one of the key goals of federal investments made in the center was clear: "One of the things that we want to do is continue to encourage that kind of innovation process so that we can have new companies that are starting up that will create good jobs in America."
To read more about Secretary Pritzker's visit to GCMI, go to the Department of Commerce's website.