Highlights
November 2013 Newsletter
Competitiveness Report Features Six EDA Projects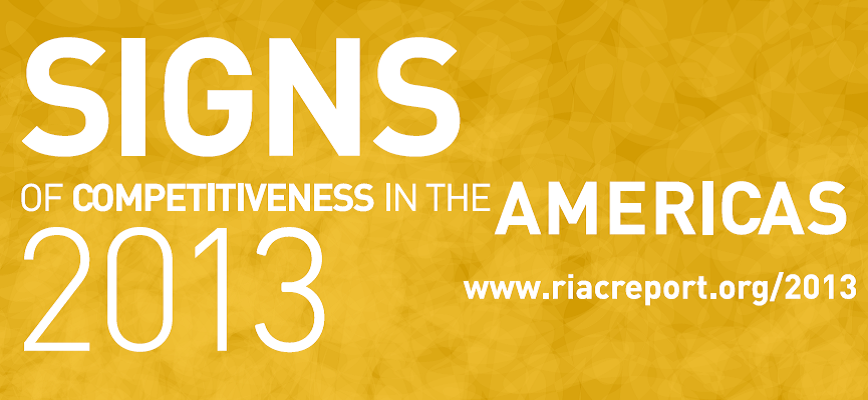 The new RIAC competitiveness report features EDA projects

Six EDA grantees were recognized in the Signs of Competitiveness in the Americas Report 2013, produced by Panama with the support of the Organization of American States (OAS) and presented at the Annual Meeting of the Inter-American Competitiveness Network (RIAC) in Panama City on October 2.
The featured EDA investments include:
$2.4 million in public works funds to improve the city of Rochelle, Illinois' municipal water and sanitary sewer utilities and the city-owned Rochelle Dual Access Railroad.
$1 million i6 Challenge grant to BioGenerator, Washington University in St. Louis, Saint Louis University, the University of Missouri at St. Louis, Donald Danforth Plant Science Center, St. Louis County Economic Council, and the St. Louis Development Corporation to advance bioscience technology commercialization.
$2 million in public works funds to Rutgers University to build the Food Innovation Center business incubator.
A $1.5 million to the city of Conover, North Carolina and Catawba Valley Community College to build a new home for the Manufacturing Solutions Center (MSC) and its business incubator at Conover Station in Hickory, North Carolina.
A $2.5 million grant in partnership with the Northern Arizona Council of Governments (NACOG), Northern Arizona University (NAU), and the city of Flagstaff to construct the Northern Arizona Center for Entrepreneurship and Technology Incubator (NACET) facility.
A $3 million grant for the construction of the Center for Emerging Technologies at the Clemson University International Center for Automotive Research (CUICAR) Campus in Greenville, South Carolina.