Success Story
November 2013 Newsletter
Expanding Baltimore's Food Economy and Job Market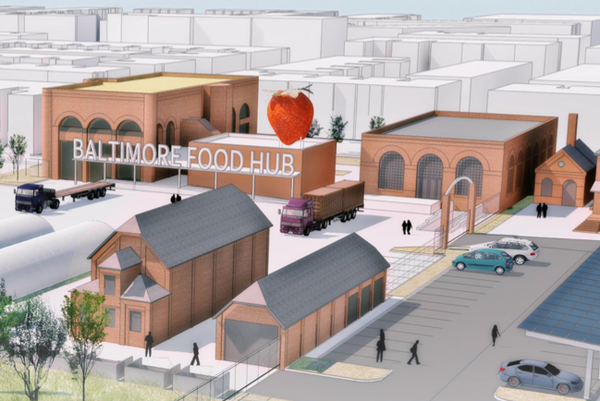 Artist's rendering of the Baltimore Food Hub
An EDA investment is supporting the work of the Historic East Baltimore Community Action Coalition Inc. (HEBCA) to transform unused buildings into an engine of growth and employment for Baltimore's food economy.
A shortage of commercial kitchens in Baltimore prevents local catering businesses from expanding their operations and hiring new workers. A feasibility study completed in 2012 demonstrated that a lack of facilities where local producers can legally and safely manufacture, prepare, and store specialty food products presents a barrier to small and medium-sized businesses (SMEs) that wish to compete locally and abroad. Overcoming this barrier would make new Baltimore business ventures more sustainable.
The EDA is helping a team of nonprofit organizations, businesses, and state and local agencies solve this problem by turning the historic buildings of the city's abandoned Eastern Pumping Station into a center of entrepreneurship and employment. The new Baltimore Food Hub will offer comprehensive services and resources vital to the area's food economy. An incubator will provide commercial kitchens for rent by the hour, food storage facilities, and affordable office space for new businesses.
EDA's $1.4 million investment in HEBCA's work on the project will be matched by local contributions, making a total of $2.8 million available for developing the Hub. This collaboration between local and outside investors will help strengthen the overall economy of Baltimore by creating an attractive infrastructure for SMEs seeking success in the $70 billion specialty foods industry. Backers hope to open the Hub in late 2014.
Participating organizations expect that combining resources for entrepreneurship with on-site job training programs in an economically distressed area will significantly aid efforts to create new jobs in Baltimore, where the Hub-related businesses are expected to hire for a wide variety of positions, including food production workers, cooks, bakers, packers, associates, and managers. The American Communities Trust anticipates that the Hub will create hundreds of jobs.
According to the project website, award-winning chef, restaurateur, and local food innovator Spike Gjerde will locate a production kitchen at the Hub, which will strengthen the ties between specialty food entrepreneurs and local farmers. Baltimore-based Big City Farms will build an urban farm on the site, adding to local food production. An educational garden modeled after celebrity chef Alice Water's Edible Schoolyard project will offer resources to local schools and youth programs. Further, the Hub will include a public farm stand and garden center.
By investing in this vital project, EDA is helping to diversify the local food economy, create new jobs, and bolster Baltimore's tax-base.