Message From Acting Assistant Secretary
Matt S. Erskine
December 2013 Newsletter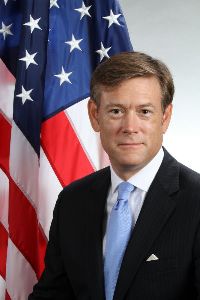 Dear Friends,
In all of our work at the Economic Development Administration, we seek to promote innovation and competitiveness in our global economy. With this in mind, we look forward to playing an active role in the implementation of the Commerce Department's "Open for Business Agenda," recently unveiled by Commerce Secretary Penny Pritzker, which focuses on trade and investment, innovation, and data.
Our Q&A with Secretary Pritzker provides our readers with her leadership perspective on the "Open for Business Agenda." We explore with her how state of the art infrastructure development, a skilled workforce, and accurate data drives competitive advantages for U.S. businesses.
Our featured success story tells how an EDA investment in the Port of Hood River, Oregon helped kick-start the local economy to the benefit of business, job seekers, and residents. The Port's results are further proof that the return on EDA investments can boost entire communities.
This month's EDA newsletter Spotlight details the launch of the next component of the Investing in Manufacturing Communities Partnership (IMCP).
The IMCP is designed to reward communities that demonstrate best practices in attracting and expanding manufacturing by using long-term planning that integrates targeted investments in workforce training, infrastructure, research, and other key assets.
A critical component of the Department's "Open for Business Agenda" that prioritizes U.S. trade and investment, Commerce Secretary Penny Pritzker announced the new competition on December 5, noting that IMCP will enhance how the federal government supports economic development by incentivizing the smartest, most strategic thinking in communities across the country.
Make sure to review this issue's Highlight, which describes the EDA's FY 2014 Economic Development Assistance Programs Federal Funding Opportunity (FFO). Under this FFO, EDA solicits applications from applicants in rural and urban areas to provide investments that support construction, non-construction, technical assistance, and revolving loan fund projects under EDA's Public Works and Economic Adjustment Assistance programs.
We wish all of our readers a happy and safe holiday season, and we look forward to working with you in the New Year.
Thank you for your interest in our work at the U.S. Economic Development Administration, and thank you for your partnership.