Q&A: Commerce Secretary Penny Pritzker Discusses New Priorities for the U.S. Department of Commerce
December 2013 Newsletter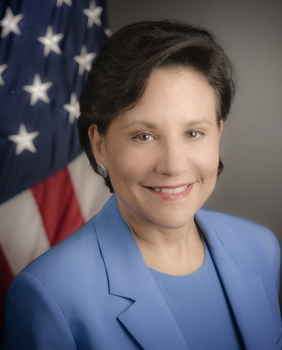 U.S. Secretary of Commerce Penny Pritzker
Penny Pritzker was sworn in as the 38th Secretary of Commerce on June 26, 2013. She is a civic and business leader with more than 25 years of experience in the real estate, hospitality, senior living, and financial services industries. Ms. Pritzker founded and served as CEO of PSP Capital Partners, and previously developed such diverse companies as Vi (formerly Classic Residence by Hyatt), a leader in luxury living for older adults; The Parking Spot, a large U.S. network of off-site airport parking facilities; and Pritzker Realty Group. On November 14, Secretary Pritzker unveiled the Commerce Department's "Open for Business Agenda," a bold new policy agenda that reflects the Department's role as the voice of business.
You recently outlined a new policy agenda for the Department of Commerce. What will the Department focus on under your "Open for Business Agenda"?
The "Open for Business Agenda" reflects the department's role as the voice of business, and signals that the United States and the Department of Commerce are indeed 'open for business,' and focused on economic growth and job creation.
The Agenda focuses on three key areas that are crucial components of economic growth: trade, because our businesses need access to more markets and more customers; innovation, because our businesses need a strong digital economy, cutting-edge manufacturing and technology and a well-trained workforce to stay competitive; and data, because our businesses need access to more and better information to make smart decisions and stay ahead.
Related to trade, how can the U.S. best attract new foreign investment?
The President's National Export Initiative (NEI) has achieved impressive results. We hit a record $2.2 trillion in exports last year, and nearly 10 million U.S. jobs are supported by exports, up 1.3 million since 2009.
However, we are still a nation that under-exports, and given the growth of global trade and the fact that 95 percent of consumers reside outside the U.S., it is clear that the greatest commercial opportunities for our businesses will be not only here at home, but also outside our borders.
That is why the "Open for Business Agenda" calls for NEI 2.0, a new effort that requires government and industry collaboration to help businesses become more globally fluent.
I will also work to ensure strong enforcement of trade rules and a level playing field for our workers. As our country's Chief Commercial Advocate, I will do everything I can to open more doors for American goods and services and make the case for foreign direct investment (FDI) in the U.S. America has an unparalleled position to attract more FDI. Global businesses want to be here because of our rule of law, our intellectual property protections, our stable financial markets, our universities, our strong consumer base, and the ingenuity of our people.
To take full advantage of this moment, President Obama launched SelectUSA at the Commerce Department in 2011. Just a few weeks ago, 1,300 leaders from 60 countries came to DC for the first-ever SelectUSA Investment Summit. The demand for our summit was overwhelming, and the demand to invest in the U.S. is deep. The feedback from the summit was powerful, and we plan to make the summit an annual event and expand and enhance SelectUSA to help even more businesses grow their footprint here in America.
What steps will the department take to spur U.S. innovation?
Innovation is one of our major priorities because American businesses need cutting-edge technologies, a strong digital economy, and workers with the right skills. Innovation is the key driver of U.S. competitiveness, wage and job growth, and long term economic growth. As much as half of economic growth in the U.S. is due to advances in science, technology, and business processes.
The Department's innovation agenda is comprised of three key components: manufacturing, skills, and the digital economy.
Manufacturing accounts for 70 percent of private R&D, 70 percent of patents issued, and the majority of U.S. exports. As the federal agency responsible for leading the government's manufacturing policy, Commerce will support manufacturing at every stage of the product lifecycle. First, we are promoting the National Network for Manufacturing Innovation (NNMI), a bipartisan, industry-driven proposal that includes a network of commercialization hubs owned and operated by universities and corporations. The hubs will collaborate on applied research, conduct skills training, and accelerate new technologies into the market. This pre-competitive collaboration among leading-edge manufacturers is crucial to our manufacturing infrastructure.
On December 5, I addressed the White House Mayor's Manufacturing Community Summit, where I announced the launch of the next component of the Investing in Manufacturing Communities Partnership (IMCP).
To compete in an increasingly global economy, the United States must come up with innovative strategies that will lead to economic growth and job creation around the country. The IMCP seeks to enhance the way we leverage federal economic development funds to encourage American communities to focus not only on attracting individual investments one at a time, but transforming themselves into globally-competitive manufacturing hubs.
An administration-wide initiative led by the White House and the U.S. Department of Commerce, the IMCP will encourage communities to devise comprehensive economic development strategies that strengthen their competitive edge in attracting global manufacturers and their supply chains. The IMCP specifically brings together the resources of multiple federal departments and agencies involved in economic development.
Through the publication of a Federal Register notice EDA is calling for applications for regions to compete to be designated as one of up to 12 "manufacturing communities".
Please check the IMCP website at: http://www.eda.gov/challenges/imcp/ for more information.
A talented and skilled workforce is also an essential component of a modern, innovative economy, and there are millions of open jobs in America due to a skills mismatch, which threatens U.S. innovation and competitiveness. This focus is a first for the Department, but also a natural fit.
One of the major skills initiatives involves joining forces with the White House and the U.S. Departments of Labor and Education to transform workforce development, ensuring that our skills training programs are driven by industry needs. For our part, the Commerce Department will emphasize industry-led training when funding state-level partners that work with small manufacturers. In addition, Commerce's Economic Development Administration (EDA) will encourage grant applicants to incorporate local workforce needs in their proposals. As you know, EDA promotes innovation by making strategic co-investments that catalyze local plans to grow regional innovation economies.
Looking forward, the Commerce Department will make sure that American businesses have a strong voice at the table when it comes to strengthening our digital economy, which is the great engine of innovation and economic growth of the 21st century. We will fight to protect intellectual property online. We will work to ensure there is robust cybersecurity for our infrastructure, for industry, and for consumers. And we will champion a free and open Internet throughout the world while making sure that our companies are treated fairly. In the months ahead, the Commerce Department will develop a coordinated approach to these and other Internet policies that affect business.
Why is data a top priority for the Department?
Data are the fuel that powers the 21st century economy. Commerce Department data touches every American and informs business decisions every day. The data enable startups, move markets, protect life and property, and power both small and multi-billion dollar companies. Commerce's data priorities are to maintain the global preeminence of the federal government's flagship statistical agencies, catalyze the emergence of new businesses, products and services powered by our data, and lead the development of open data frameworks and standards that improve data access, discovery and analysis – while continuing to protect privacy and security.
I know the value of Commerce's data first hand, as my first startup 25 years ago was built with the help of information from the Census Bureau. Since then, the need for timely, relevant and accessible data to make informed business decisions has grown exponentially.
For example, the Department's National Oceanic and Atmospheric Administration (NOAA) produces 2 terabytes of weather and climate data that power a multi-billion-dollar industry – everything from the Weather Channel to smartphone weather apps. Moving forward, we are taking the first steps to create a public-private initiative to unleash more NOAA data, which will help more entrepreneurs launch businesses using public information concerning our oceans, climate and weather.
Data does not get a lot of attention until it is not available. Americans were reminded of this when the Commerce Department's economic reports were delayed due to the government shutdown. Businesses depend every single day on the rich data we provide. We want to make sure that both data and our digital economy are fully empowering entrepreneurs and businesses in the years ahead.