Success Story
December 2013 Newsletter
Port of Hood River, Oregon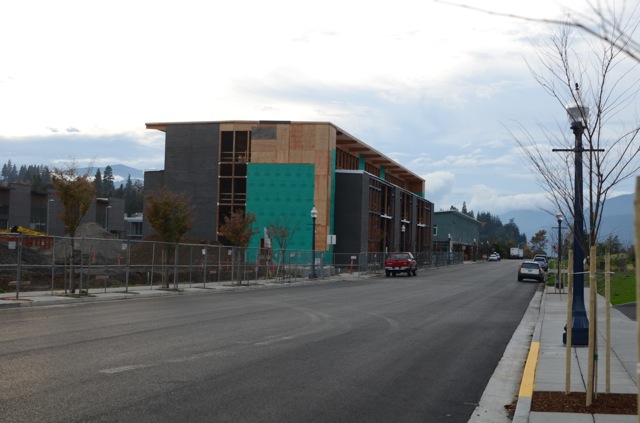 EDA-funded roadway improvements at the Port of Hood River,
Oregon allow local businesses to expand operation
An EDA public works grant investment to the Port of Hood River in Oregon's Hood River County has provided a remarkable return in the form of local business and job growth.
In April 2008, EDA awarded a $500,000 grant to support construction of interior road improvement and related utility upgrades on the Port's 8-acre industrial park. The improvements were prompted by tenants with growing pains caused by limited large truck access and lack of future freight mobility.
Infrastructure expansion was needed to give the local economy a much needed boost. The area unemployment rate was 6%, and the average per capita income was $27,173, more than 20% below the U.S. average. However, any improvements would have to account for both the industrial and recreational uses of the Port. Further, local residents' concerns about increased business traffic had to be addressed. Planners had their work cut out for them.
Fortunately, the Port was up to the task. Changes were made both carefully and below original cost estimates, allowing for a finished project that has improved the local business climate, increased employment, and raised quality of life.
According to Port of Hood River Executive Director Michael McElwee, the EDA Public Works grant was instrumental to the rapid development on the waterfront. "Two key pieces of infrastructure were needed: Anchor Way, a new industrial road for truck access, and upgrades to an existing but substandard street. The area was particularly challenging because the industrial core borders active recreation sites. EDA's investment enabled the placement of necessary infrastructure at a critical time when local businesses were seeking to expand. The resulting private investment and job creation has provided an enormous benefit to our community."
At the time of the grant, there were nine principal tenants on site, including the Full Sail Brewing Company, Boeing, and Turtle Island Foods that in aggregate occupied about 100,000 square feet of light industrial space. Seasonally adjusted employment on the site totaled just 24 persons.
Once construction was completed, several of the tenants were able to advance their expansion plans. The improvements also attracted additional tenants, including Hood River Juice Company, Pfriem Brewing, and DaKine. Today, 23 tenants occupy 233,000 square feet, total employment is 371 persons, and private sector investment has reached $33.85 million.
The Port anticipates future demand and is poised to accommodate up to an additional 40,000 square feet of light manufacturing space. Officials project that another 50 area jobs will be added as a result.
EDA sees the Port's success as an excellent example of how a small and targeted investment can quickly generate tangible and sustainable economic benefits for an entire community.