Message From Deputy Assistant Secretary Matt S. Erskine
January 2014 Newsletter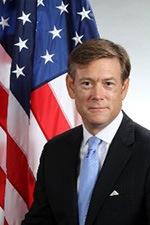 Dear Friends,
Happy New Year!
As we look forward to a prosperous 2014, we should all be encouraged by the continued strengthening of our national economy.
In 2013, U.S. businesses created 2 million jobs, bringing the total of jobs created in the last four years to 8 million. Our economy is growing at a stronger pace. The unemployment rate has steadily fallen to its lowest point in five years. Importantly, our fiscal situation is firmer, with deficits that are now less than half of what they were when President Obama took office.

These numbers are impressive and provide hope. We also know there is more to do to restore opportunity and broad-based growth for every American. EDA stands ready, as it has over the last five decades, to work with our partners and stakeholders to help drive economic growth and increased prosperity.
Our Q&A with Doug O'Brien, Deputy Under Secretary for USDA Rural Development, highlights the collaboration between EDA and USDA Rural Development to strengthen America's vital rural communities and regions.
Our featured success story on the work of the Arizona Furnace Technology Transfer Accelerator discusses how a relatively small EDA technical assistance investment supported a bottom-up approach to license and commercialize the work of research institutions for high growth startup businesses. The successful Furnace program is being looked at closely by others and will be replicated as a best practice.
This month, our newsletter spotlight features an opinion piece written by Commerce Secretary Pritzker in the U.S. Mayor newspaper. Secretary Pritzker outlines how the Investing in Manufacturing Communities Partnership, a key part of her "Open for Business" Agenda, will reward regional economic development best practices through a synchronized, multi-agency approach. 
Also, be sure to review the Highlight section in this issue to learn about new projects being supported through the Virginia Innovation Partnership. The Partnership was created in 2012 as part of the i6 Challenge and provides funding that allows university researchers to advance early-stage work through the "proof of concept" stage, in which they establish its commercial potential.
Thank you for your interest in our work at the U.S. Economic Development Administration, and thank you for your partnership.
The EDA family wishes you a happy, healthy, and prosperous New Year.
We look forward to working with you to grow our economy in the New Year.