Q&A: Dennis Alvord, Executive Director, BusinessUSA
February 2014 Newsletter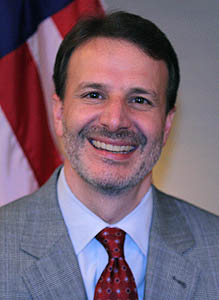 Dennis Alvord, Executive Director of BusinessUSA
Dennis Alvord was appointed Executive Director of BusinessUSA in March 2012.  Launched by President Barack Obama in October 2011, BusinessUSA is a multi-agency customer service initiative designed to improve awareness of and streamline access to business assistance resources.  As Executive Director, Mr. Alvord is charged to develop and deploy the initiative's operational infrastructure.  He is a tireless advocate of small businesses and entrepreneurship and helping U.S. firms compete in the global economy.
Mr. Alvord previously served as Executive Director of the U.S. Department of Commerce's CommerceConnect initiative. Started by Secretary Gary Locke in October 2009, CommerceConnect was a customer service initiative that simplified access to Commerce business solutions though a single entry point to programs, information, and services. 
 
Earlier in his career, Mr. Alvord served in a variety of executive positions at the Department's Economic Development Administration (EDA) including as the Acting Deputy Assistant Secretaries for Economic Development, Regional Affairs, and External Affairs.
 
Before joining the federal government, Mr. Alvord was a Project Manager in the Infrastructure Finance Group of the Bethesda, Maryland-based environmental and transportation consulting firm Apogee Research, Inc. Mr. Alvord holds a Masters of Public Administration degree from the George Washington University School of Business and Public Management in Washington, D.C. and a Bachelor of Arts in Political Science from the State University of New York College at Cortland.
Q: What is BusinessUSA and how was it created?
BusinessUSA is the federal government's official assistance resource for U.S. businesses. As a government-wide initiative, BusinessUSA is the principal gateway to resources for entrepreneurs and businesses to grow and succeed. Launched in February 2012, BusinessUSA provides businesses, exporters, and entrepreneurs with a single access point to up-to-date business-related information, programs, tools, and services. With thousands of federal, state, and local resources, BusinessUSA is making it easier for entrepreneurs and exporters to locate, access, and utilize the enterprise assistance resources most relevant to their business needs. Because BusinessUSA leverages multiple federal partnerships and integrates thousands of business-facing resources and tools through a single point of entry, BusinessUSA saves entrepreneurs valuable time otherwise spent navigating through the myriad of government resources. BusinessUSA addresses the needs of businesses by providing easy access to information and services through various customer service channels (e.g. web, FAQs, phone, etc.).
On October 28, 2011, President Obama created the initiative in a Presidential Memorandum entitled, Making It Easier for America's Small Businesses and America's Exporters to Access Government Services to Help Them Grow and Hire. The enterprise is co-managed by the U.S. Department of Commerce and the U.S. Small Business Administration, which are responsible for the design, development, and operation of the effort. Among the key tenets of the initiative is to quickly and easily connect businesses to the government services most relevant to them. To date, signature products include the Business.USA.gov website and a contact center at 1-800-FED-INFO. BusinessUSA has also been expanding other customer service channels such as email ticketing, chat, and social media.
Q: What key services and resources are available through BusinessUSA to help connect businesses with the information they need to succeed? Do businesses have a role in ensuring that the program works to meet their needs?
BusinessUSA's customers receive a personalized service delivery approach integrating innovative technology solutions and multi-channel customer service based on their individual preferences. Customers are able to interact with BusinessUSA in whatever manner they prefer – some of the most popular avenues include using self-service tools on the website, speaking with a contact center agent, and submitting an email request on-line. Whether a business is just starting out or looking for opportunities to grow or export their products to new markets, BusinessUSA can connect firms to the right resources and services to meet their needs.
BusinessUSA houses a wide array of resources. Current offerings help business customers start or grow a business, protect intellectual property, improve manufacturing efficiency, identify procurement opportunities, locate financing, learn about health care, access data and information, begin or expand exporting, facilitate veterans' entrepreneurship, grow women and minority-owned businesses, receive disaster recovery and preparedness assistance, understand taxes and regulations, invest in the United States, and much more. To date, BusinessUSA has had over 1 million website visits and 3.6 million page views, more than 14,000 phone inquiries, over 79,000 newsletter subscribers, and more than 28,000 twitter followers. Business-facing resources have expanded from 297 at launch to over 5,700 federal, state, and local resources. The website has also promoted 200 success stories and 25,000 business-related events.
Particularly important to BusinessUSA is obtaining customer feedback to ensure that customer needs are being met. Indeed, the President's Memorandum creating the initiative directed that it be "…designed, tested, and built with the active feedback of U.S. businesses and relevant online communities." As such, BusinessUSA continually solicits information on customer satisfaction and how the customer experience can be enhanced.
This is achieved through online and contact center user surveys, website analytics, presentations to business organizations, website usability sessions, and focus groups to name a few. Perhaps the greatest source of feedback comes from visitors to Business.USA.gov who avail themselves of the options on the customer service tool bar allowing them to 'Ask a Question' or 'Give Feedback'. BusinessUSA welcomes feedback on the initiative and how to best meet customer needs.
Q: The Commerce Department's Open for Business Agenda focuses on trade and investment, innovation, and data as critical components of our economic growth. How is BusinessUSA working to advance this agenda?
As a single access point for business information and resources, BusinessUSA supports all aspects of the Department's Open for Business Agenda. As the title of the President's Memorandum creating the initiative suggests, there is a particularly tight nexus to the trade and investment components of the Agenda, where BusinessUSA works to expand access to resources that help firms export and access financing. In fact, BusinessUSA recently added new export resources to the website available at business.usa.gov/export.
BusinessUSA also added resources to the website homepage in support of the Department's SelectUSA initiative and to help firms make good in-bound foreign direct investment decisions that support new and expanded U.S. operations. BusinessUSA supports the innovation plank of the Agenda by connecting firms to manufacturing and technology commercialization resources as well as resources to help with challenges such as intellectual property protection. Finally, the initiative also fully supports the Department's interest in enabling businesses in a globally competitive economy to make better use of government data. In creating BusinessUSA, the President directed that "…agencies shall work together to aggregate on the BusinessUSA platform statistical, demographic, and other raw Government datasets of particular interest to small businesses and exporters, making government data more easily accessible and spurring innovative uses of the data through business oriented web or mobile applications." In total, BusinessUSA provides access to dozens of programs, services, and data resources spanning all 12 Commerce Bureaus that support the Department's Open for Business Agenda.
Q: How can regions and localities best work with BusinessUSA?
Every entrepreneur has unique business needs and BusinessUSA is working to assist businesses in gaining access to the services, programs, and resources across the government, many of which are most readily accessed through regional and local offices. Since its launch, Business.USA.gov has worked to provide a personalized experience that is intuitive, interactive, and responsive to customer needs and preferences. To that end, users can enter a zip code to locate the closest federal resource providers, state, and local information and local business training opportunities and events.
One of the goals of BusinessUSA is to increase and improve the content and provide innovative new user-friendly tools that will help businesses and entrepreneurs to get the answers they seek quickly in a more comprehensive, well organized manner—no matter their location. Therefore, we encourage regions and localities to: 1) help us identify resources that can be made available through BusinessUSA, 2) work with us to cross-promote the initiative and enhance awareness of BusinessUSA as a resource, and 3) give us feedback to help us continually improve.
By engaging businesses at conferences and workshops, and through conversations with area entrepreneurs, local business assistance organizations can help promote the benefits of BusinessUSA and encourage its use as the definitive source for federal information and services aimed at helping sustain businesses. BusinessUSA also encourages the sharing of information through national and local organizations marketing and outreach efforts such as business correspondence, social media outlets, and print and electronic newsletters, and publications like the Innovate@EDAnewsletter.
Q: What are the policy priorities for the next few years for BusinessUSA?
Over the next few years, customers can expect to see a variety of enhancements to the BusinessUSA initiative. Importantly, we will continue to work to maintain, update, and expand the content and information offered through BusinessUSA. In many areas, we are just getting started identifying, compiling, and capturing the resources that will be most helpful to tomorrow's entrepreneurs and business leaders. To be successful, we will continue to grow and strengthen our partnerships at the federal, state, and local levels.
BusinessUSA is also very interested in developing and implementing new collaborative customer service models that replicate best practices from the private sector. We will strive to build out a full, multi-channel customer experience in a uniquely integrated fashion that includes existing customer service channels like the website, contact center, and email as well as new channels such as a better search engine, online communities, social media, blogs, chat, more robust FAQs, and other customer accoutrements. Non customer-facing improvements, including a vigorous shared knowledge base, enhanced metrics and analytics, and an improved ability to track, refer, respond, and follow up on customer inquiries will also be developed.
Finally, from a technology development perspective, BusinessUSA will accelerate the development and integration of innovative new technology solutions using an agile methodology and iterative approach to improvements. Expect to see new personalized features that leverage the work of BusinessUSA's team of White House Presidential Innovation Fellows on the 'MyUSA' platform, as well as creative new smart tools and features that respond directly to customer feedback and requests.
We're just getting started! Please visit Business.USA.gov frequently, share the URL with others, and join the conversation about what enhancements you would like to see in the future.