Success Story
February 2014 Newsletter
Winds of Change Bring New, High-Paying Jobs to Colorado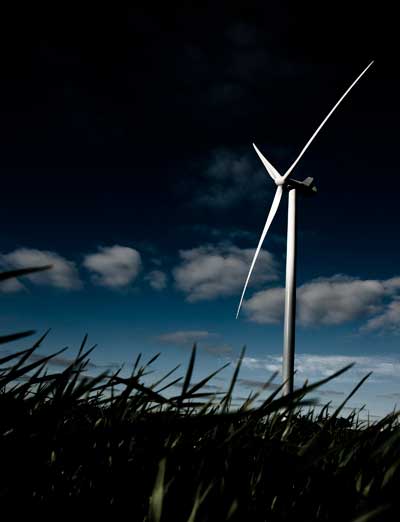 Parts for Vestas Windmills, like the one pictured, are now built in Brighton, Windsor, and Pueblo, Colorado. Photo courtesy of Vestas Wind Systems A/S
There is a positive change in the air along the front range of Colorado. Thanks in part to critical infrastructure grants from EDA, foreign-direct investment has blown into the region. Vestas Wind Systems, a Danish-headquartered company that has become the world's largest supplier of wind-power generation equipment, has recently announced that it is expanding operations in Brighton, Pueblo, and Windsor to create more than 1,300 new, high-paying manufacturing jobs in the state.
The front range region offers unique opportunity for development and expansion of the wind generation and manufacturing sectors, but the community needed some assistance to help it fully capitalize.
In Brighton, existing Northeastern Renewable Energy Park was in dire need of upgrade in order to accommodate Vestas as well as continue to support existing activity. A $3 million EDA investment helped to upgrade roadway, water, and waste water infrastructure to allow for growth of industry and new job creation. In Windsor, a $1.7 million EDA investment helped to ugrade the wastewater treatment plant to accommodate additional development.
Today, the new Vestas plant in Brighton produces both blades and nacelles (the gearboxes and generator shells for the turbines), and the nearby plant in Windsor manufactures blades. Vestas' third facility in Pueblo builds the actual towers, which puts Colorado in the forefront of wind power manufacturing.
"We would not have been able to create so many jobs so quickly in our community without the critical assistance from EDA that allowed Vestas to build its plant here."
The EDA investments aren't just helping to generate jobs in the region – they are catalyzing the region's alternative energy company cluster. The goal is not just to create jobs for now but to create jobs for the future. EDA recognizes that vision and forward thinking and is excited to play a role in making the community economically stable for years to come.
"We all want to bring more jobs to our communities, and a integral part of the attraction is to effectively construct roads and wastewater infrastructure. It's not something people typically think about… that infrastructure investment translates into permanent job creation," said Robert Smith EDC Director for the City of Brighton. "We would not have been able to create so many jobs so quickly in our community without the critical assistance from EDA that allowed Vestas to build its plant here. These kinds of partnerships with the EDA are making a real difference in communities like ours."
"We knew that there was tremendous potential for industrial investment in the town of Windsor," said Kelly Arnold, Town Manager for Windsor. "EDA enabled us to make the necessary upgrades to our town's infrastructure to realize that potential. We are very grateful for the support and look forward to continued growth thanks to EDA's help."
The future is bright for the front range region. New orders for the plants mean more new jobs for the citizens of Brighton and Windsor. Vestas is looking at hiring several hundred more workers throughout 2014 and 2015 to meet capacity. The investments from EDA and Vestas have provided both the literal and figurative wind that is allowing this town to reach new economic heights.