Highlights
March 2014 Newsletter
Silicon Valley: The EDA Success Story You've Never Heard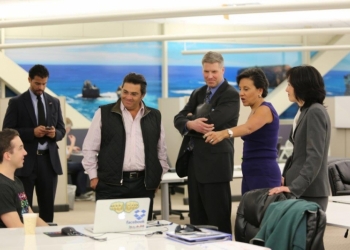 U.S. Secretary of Commerce Penny Pritzker with LinkedIn CEO Jeff Weiner during her visit to Silicon Valley
Last week Secretary Pritzker traveled to Silicon Valley to meet with CEOs of several large tech companies, including Yahoo!, Tesla, and Google, to discuss Administration's commitment to spurring U.S. economic growth, innovation, and competitiveness. This was the first visit to the Valley for Secretary Pritzker as a member of the Administration, but Commerce, and EDA specifically, has a long history with the region.
Everyone knows that Silicon Valley is a hub for technology, innovation, and cool new cutting edge products and services. Several of the companies born in the Valley have changed the cultural lexicon and added vocabulary to languages all over the world (how do you refer to searching the Internet again?). But, what most people don't realize is that EDA invested in Silicon Valley before the tech boom, in effect helping to shape what the region has become.
Back in the 1990s, the semiconductor industry in Silicon Valley found itself facing competitive challenges from other rising tech regions in the U.S. and abroad for the first time. This was coupled with the closure of several major military bases that had been crucial to the region's economy. Many felt that the area was falling behind and needed better ways to change, adapt, and reinvent itself to compete.
In 1993, Silicon Valley's leaders in business, government, academia, labor, and the non-profit sector created Joint Venture as an experiment in regional thought and action on issues that are not constrained by city limits, county borders, or state lines – such as economic development, infrastructure, transportation, communications, education, health care, disaster planning, and climate change. Joint Venture sought to build the framework for regional thought, analysis and action to assess challenges, reach consensus on the best strategies for response and work on solutions. But, it needed some help to get things moving and applied to EDA for a grant.
In 1994, EDA provided $2.1 million to Joint Venture for the development of a strategy to diversify and strengthen the economy and to overcome the challenges caused by competition and base closures. Today, Joint Venture continues to provide a forum for collaborative regional thinking and leadership from both the public and private sectors and serves as a vibrant force in economic development in Silicon Valley.
Any region's economy can be vulnerable. For nearly 50 years, EDA has been there to lend support and provide communities with the tools to build vibrant economies that can better meet future challenges. The next Silicon Valley may be among any of EDA's current grantees.