Success Story
March 2014 Newsletter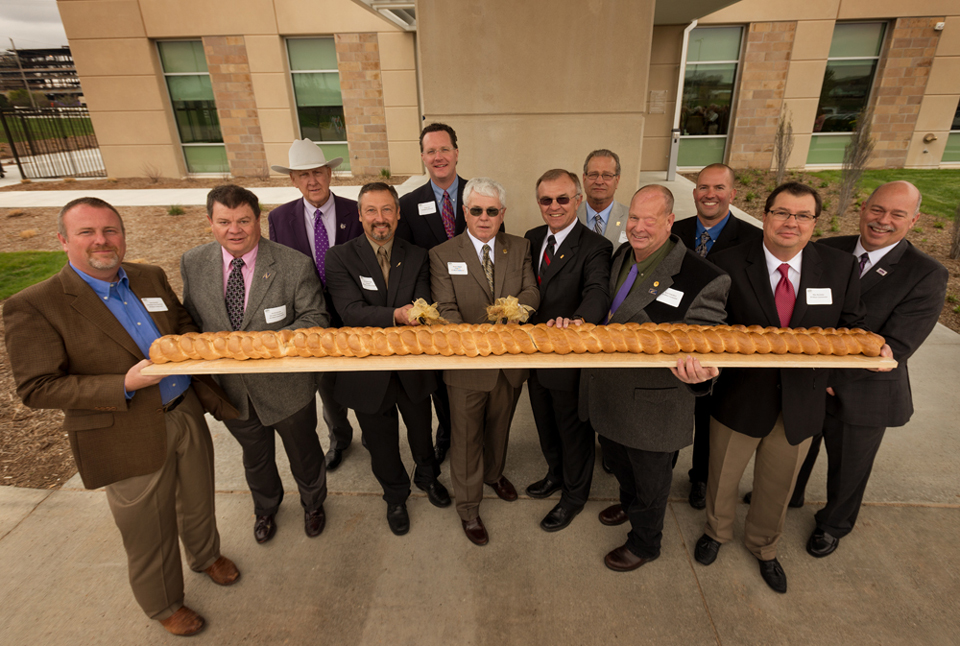 Bread Cutting Ceremony at the Opening of the Kansas Wheat Innovation Center. Photo Courtesy of the Kansas Wheat Commission
Sowing the Seeds of Success: Kansas Wheat Commission
In the movie The Wizard of Oz, Dorothy clicks her heels together three times while saying "there's no place like home." She is leaving the magical Technicolor world of Oz for the familiar muted tones of home Kansas. Recently, thanks to the efforts from the Kansas Wheat Commission, there truly is no place like Kansas – especially if you're talking about agricultural innovation.
Recent changes in weather patterns have hit the wheat farmers of the American plains hard. Decreased rainfall, increased temperatures, and generally more severe weather have made it difficult for farmers to keep pace with increased global demand for wheat. And the demand is staggering – America wheat brings in more than double the money that corn, soybeans, or beef and veal do. The Kansas Wheat Commission realized there was opportunity here, and they sought to bring together industry, educational institutions, and federal agencies in order to create the Kansas Wheat Innovation Center (KWIC).
They had the building, but not the crucial lab equipment needed to make the building function – and to secure a critical grant from the National Science Foundation. With a relatively modest seed grant of $440,000 from EDA for the equipment, the Commission secured a total $10.3 million to grow a center for research and advancement. Located in the Kansas State University Grain Science Campus, the Center houses a feed mill, a test kitchen, a state of the art greenhouse, and some of the brightest minds in food science to find ways to make wheat more resilient to drought, extreme heat, frigid cold, and myriad of other issues affecting crops.
"We are very proud of the work that we're able to do, and we are very thankful to EDA for helping make our Center possible," said Justin Gilpin, Kansas Wheat Commission, CEO.
But they don't just work to make crops more resilient – they are also working to preserve varieties of wild wheat to ensure future diversity of crops. This sort of work not only helps to keep America's bread basket full, it also feeds the world. KWIC's collection of genetically diverse wheat is unique in the world. Scientists now have the ability to use advance technologies at the KWIC to identify traits for drought and heat tolerance, disease resistance, nitrogen utilization, and nutritional benefits.
EDA's catalytic investment in the heartland is making a real difference. The ground-breaking research and advancements taking place at the Innovation Center can be applied globally to increase crop production and end hunger. Universities and private companies across the region and the world will benefit from concentrated efforts at the KWIC to ensure the stability and profitability of future wheat crops. According to the Kansas Wheat Commission, operations at the KWIC will bridge fundamental research to commercial applications, leading to food security, job creation, and billions of dollars in economic impact.
Oz may have been in Technicolor, but Kansas is where the magic is really happening.