Q&A: Dr. Janet Hammer, Program Director, The Initiative on Triple Bottom Line Development, Portland State University College of Urban and Public Affairs
April 2014 Newsletter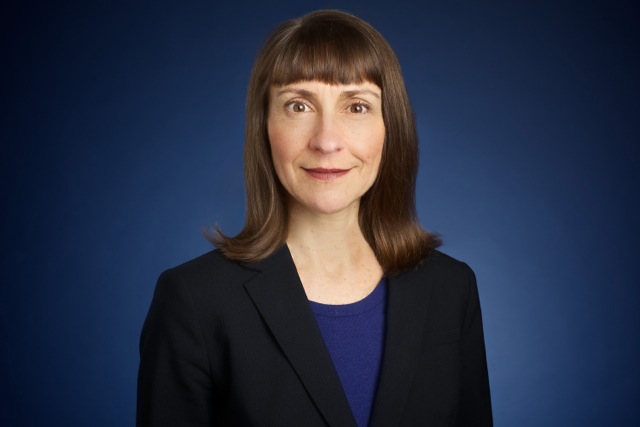 Photo of Dr. Janet Hammer, Program Director, Initiative on Triple Bottom Line Development, Portland State University
Dr. Janet Hammer is Program Director of the Initiative on Triple Bottom Line Development at Portland State University and has led the development of the TBL Tool. Drawing on two decades of experience in public, private, and non-profit settings, Janet is a systems thinker who works in the challenging but essential spaces where different disciplines and sectors intersect. She comes from a family of small business owners and has earned degrees in environmental policy analysis and planning (UC Davis), city and regional planning (University of Pennsylvania), energy management and policy (University of Pennsylvania), education (Portland State University), and urban studies (Portland State University).
Question: For our readers who may not be familiar, how does the triple bottom line tool work and when should an organization use it?
Answer: The triple bottom line is a term that refers to economic, environmental, and social performance of investment. It aims to capture important investment value that may not appear in traditional financial accounts. The concept is increasingly salient to organizations, with key drivers including improved accountability and transparency, stronger investment performance, cost savings, competitive advantage, innovation opportunity, risk management, and alignment with stakeholder goals.
To date, there has been no common framework to address triple bottom line performance of economic development. The TBL Tool meets this need, doing so in a way that is responsive to different project and community types. The tool is useful to public, private, and non-profit organizations that approve, fund, or engage in economic development.
The TBL Tool generates scores for three goals (economic vitality, natural resource stewardship, and community well-being) as well as the performance areas and measures that comprise a goal. Scores give an indication of how well a project appears to align with TBL goals and where there may be room for improvement. The website (tbltool.org) includes a brief overview video that introduces the tool and how it works.
The tool helps optimize and communicate triple bottom line performance of development investment. When to use the TBL Tool depends upon the organization, as the tool has a number of potential applications. For example, you can use it to review or prioritize proposals, improve project performance, communicate with stakeholders, prepare bid documents, provide better accounting and transparency, strengthen an application, or demonstrate alignment with community goals.
Q: Since this newsletter is focused on green issues, can you talk about the environmental element of the tool and explain the type of information it seeks to capture to calculate a score?
A: The triple bottom line concept provides a way of talking about financial capital, natural capital, and human capital – which are all essential to economic development. As important, but often forgotten, is the reality that these three capitals are interconnected. For example, a green building can be thought of as good for the environmental bottom line but associated cost savings and employee impacts can improve the financial and social bottom lines as well.
Within the natural resource (environment) goal the TBL Tool considers green design and construction, green operations, and industry eco-efficiency (resource impacts per job created). Environmental elements are also addressed in the community well-being goal through some of the place-making and accessibility measures. For example, a project with good pedestrian, bike, and transit accessibility can benefit the environmental bottom line as well as the social and economic bottom lines. Thus, while the TBL Tool provides scores for each of the three goals we encourage users to think about the connections between them.
Q: Why do you think the environment is an important consideration when planning for economic development/why was it included in the tool?
A: Companies understand that natural capital is fundamental to their business, and that the environment is an important consideration for cost efficiencies, innovation opportunities, risk management, and stakeholder relations. The question is no longer whether to engage with the issue but how.
The same goes for economic development. The environment is a foundational underpinning to what we do – it provides essential inputs to production, livability amenities that are important for attraction and retention, enhanced resilience to natural disasters, and contributes to individual and community health. What's been missing is a common framework that helps organizations manage and communicate triple bottom line performance – a framework that is responsive and flexible, not punitive, rigid, or burdensome. That's what the TBL Tool delivers.
Q: Can you provide a brief example of an organization that has had success using the tool?
A: We're early in the process but are beginning to hear feedback from the field. For example, Minneapolis thinks the tool will be useful for reviewing bids submitted in their RFP process and also for determining which location(s) may be best for an investment. A small community in Nebraska is hoping that the tool will help them identify ways to strengthen proposed projects. Salt Lake City is integrating the TBL Tool into their economic development strategy, providing loan applicants a discount if they complete a TBL report and an additional discount if the project achieves a certain score threshold. The City also found that the tool has helped bridge economic development and sustainability silos and prompting productive dialogues about how best to align efforts.
The TBL Tool early adopter program is designed to help organizations successfully apply the tool, while also providing insight on how the tool is most valuable and where there is room for improvement. Organizations that are interested in learning more about the TBL Tool or early adopter program are welcome to contact me at info@tbltool.org.