Success Story
April 2014 Newsletter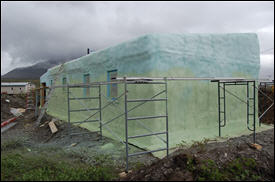 Construction of a Cold Climate Housing Research Center prototype home in Alaska
Alaska is unparalleled in its natural beauty. From Alaska, one has views of the Pacific Ocean, glaciers, mountain ranges, lush forests, and even Russia (according to one prominent Alaska resident, at least). But for its residents, that rugged beauty comes at a price. For a large portion of the year, Alaska is blanketed by endless nights and frigid temperatures. In much of rural Alaska, it is not uncommon for a household to spend 20-30% of their income on heating and electric bills. Finding energy efficient ways to deal with Alaska's harsh winters not only benefits its residents, but it also has a significant positive effect in preserving environment. Luckily, EDA grantee the Cold Climate Housing Research Center (CCHRC) is making strides in finding an efficient and environmentally friendly means to deal with winter in Alaska and other cold climates.
CCHRC is an industry-based, nonprofit corporation created to facilitate the development of energy-efficient and cost-effective building technologies for people living near Polar Regions. In 2009, EDA invested $1.9 million to expand the CCHRC facility in order to house the Sustainable Northern Communities Project.
Alaska is diverse, which makes finding solutions a real challenge and requires a place for people to gather, for ideas to form, and for innovations to be created and implemented. The Sustainable Northern Shelter program provides a space for members of the building community, including builders, homeowners, suppliers, engineers, architects, banks, realtors, appraisers, and policy makers, to collaborate, learn, and share best practices.
"The addition to the Cold Climate Housing Research Center, funded by EDA, will have a positive impact on Alaskans for decades," said Jack Hébert, President and CEO of the Sustainable Northern Communities project. "The Nation's farthest North LEED Platinum facility now has the classroom and workspace to train building professionals, trades, owners and the general public on construction and operation of high performance buildings."
In the few years since its founding, the center has more than 40 projects occurring statewide at any time and has developed several prototype homes that can be easily and affordably reproduced throughout the state to provide much-needed housing that is designed with energy efficiency and durability in mind. Additionally, the center provides more than 50 trainings, 2,000 tours, and 2,000 consultations per year that provide crucial development to the region's workforce.
The building itself is LEED Platinum certified and designed to be 75% more efficient than a traditional building of the same size. It reduces heating oil use by 5,000 gallons per year through a combination of energy efficiency and renewable energy and has an estimated green-house gas reduction of 49 metric tons per year.
The Alaskan winter hits its residents hard – physically, emotionally, and financially. But the pioneering advancements taking place at the Cold Climate Housing Research Center through the Sustainable Northern Communities project are finding ways to reduce winter's literal and figurative (frost) bite without compromising the state's natural awe-inspiring beauty.