Highlights
June 2014 Newsletter
Grading EDA's University Centers
EDA Releases "Making Connections, Evaluation Project to Assess Best Practices in EDA's University Center Program"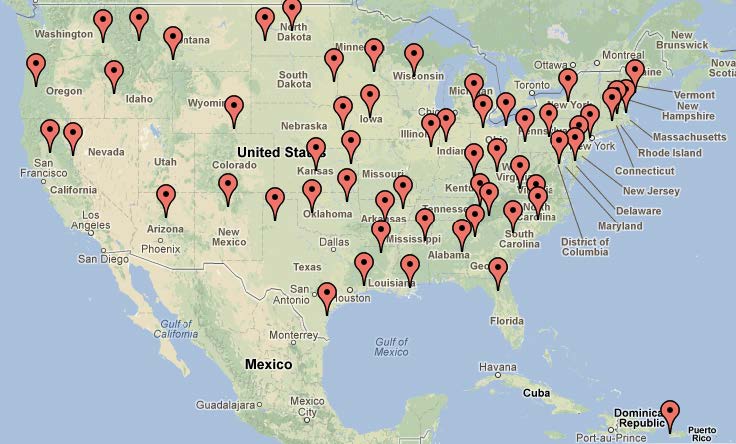 Map of distribution of University Centers in the Continental United States
EDA funds a number of projects and tools to help communities and regions evaluate their economic opportunities and help them build capacity. The tools are intended to assist with economic development, but sometimes it's challenging to really measure the impact of a project. Thanks to an in-depth analysis of EDA's University Centers (UC), we now have some valuable information assessing the best practices of this particular endeavor.
The goal of the University Center program is to provide resources to develop, implement, and support regional strategies to promote job creation, the development of high-skilled regional talent pools, and business expansion in a region's innovation cluster. It's about boosting capacities and capabilities. In short, EDA is aiming to mobilize higher education behind the needs of the U.S. economy.
The University Center program began in 1966 and was re-launched in 2004 to make it more competitive. EDA, under its Research and National Technical Assistance program, conducted a formal evaluation and collected data on the performance on the University Centers to better understand the impact of the program. EDA engaged SRI to develop the framework and conduct the evaluation.
As the evaluation got underway, SRI realized that there were going to be some challenges with conducting an evaluation. Namely, each of these centers is fairly localized, and while the services are often similar, they are provided in specialized ways to be responsive to the needs of the local community. As part of the evaluation, SRI conducted an inventory of all services and the ways they are provided by each of the UCs.
In addition to looking at the services themselves, SRI surveyed UC staff, stakeholders, and customers to figure out what the most valuable and in-demand services are. For local governments and economic development organizations, UC's can tap into academic expertise to assist with data analysis, impact studies, GIS toolkits, and a number of other technical assistance services. For existing businesses and entrepreneurs, UC's can provide a range of services including process improvements, legal services, and commercialization. One of the most important services UC's provide to the business community is acting as a conduit to the expertise of faculty and students in a wide range of fields such as engineering, law, marketing, and computer science.
Based on that data, SRI was able to develop best practices for services across the program to influence and improve national services. Additionally, SRI developed one-pagers highlighting the focus and successes of each individual UC to highlight the local work and impact of each center.
Read the Making Connections, Evaluation Project to Assess Best Practices in EDA's University Center Program (PDF) to learn more about the program and how your organization can use this important resource.