Success Story: Making Green Through Bi-National Trade in the Blue Water Region
August 2014 Newsletter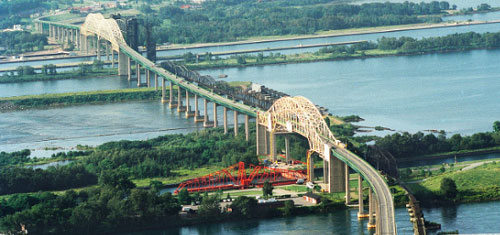 Image of the Blue Water Region
The $700 billion trade relationship between the United States and Canada represents the largest binational trade relationship in the world. The Blue Water Region of east Michigan and southwest Ontario is home to the Blue Water Bridge, the nation's third most valuable border crossing, and the only double-stack rail tunnel crossing between Michigan and Ontario. Therefore, the region is immensely important to sustaining the world's largest trade relationship. In addition to these transportation links, the region is home to a number of other binational economic assets in the automotive, agricultural, and bio-manufacturing sectors that can be mutually leveraged to diversify and drive the transitioning binational regional economy.
In 2011, Michigan State University received an EDA grant to take steps to strengthen the regional economy. With help from EDA, the university sought to foster sustainable economic recovery across the region by developing a regional export strategy. This new strategy, aimed toward increasing trade with the region's Canadian neighbors, would provide new markets for local businesses, strengthen regional trade infrastructure, support small businesses by facilitating trade both with Canada and with overseas partners, and ultimately make the region more globally competitive.
Michigan State University conducted extensive research on the region's current economic position and levels of bi-national regional collaboration through their Center for Community and Economic Development (MSU CCED). It found that both financial barriers and low levels of market knowledge prevented small businesses from entering international markets. A significant majority of businesses surveyed identified knowledge gaps, limited resources, and business risk as factors limiting their ability to expand and compete abroad. MSU CCED found that the region could become a model both for local regional economic collaboration and for bi-national regional cooperation, because it had tremendous potential – potential that could only be realized by empowering small businesses across the region. This research helped to stimulate conversation on how best to strengthen the regional economy, reduce unemployment, and develop regional industries to become globally competitive.
"The Blue Water Region presents a unique opportunity to engage in innovation-driven economic development through binational regional collaboration," said MSU CCED Project Director J. D. Snyder. "We know that binational collaborations stimulate innovative products and processes. This could be a binational regional model for North America."
In June 2014, MSU CCED co-sponsored a bi-national conference focusing economic development and regional collaboration between east Michigan and southwest Ontario. The two regions made significant progress at the conference, with three regional economic development organizations signing a groundbreaking new agreement committing each region to bi-national collaboration. The agreement was facilitated by MSU CCED and signed by the Vice President of the Detroit Regional Chamber, the Chair of the I-69 International Trade Corridor, and the Chair of the Southwest Economic Alliance (Ontario), all of whom pledged to collaborate to promote "trade, transportation, and economic growth in the region" through joint marketing initiatives, the expansion of existing clusters, and promotion of trade resources. This new pledge created a strong partnership among regional economic development authorities, representing a major step toward the kind of continued collaboration that will allow the Blue Water region to strengthen its economy and improve the well-being of its people.
The Blue Water Region long suffered high unemployment, and some feared that the best days of the area were behind them. But today, the region of east Michigan and southwest Ontario is working to become one of the foremost examples of the power of bi-national regional collaboration. With continued partnership between regions on both sides of the Great Lakes, the region will strengthen its economy and its competitiveness on a regional – and on a global – scale.