Highlight: EDA's FY2014 Manufacturing Footprint
October 2014 Newsletter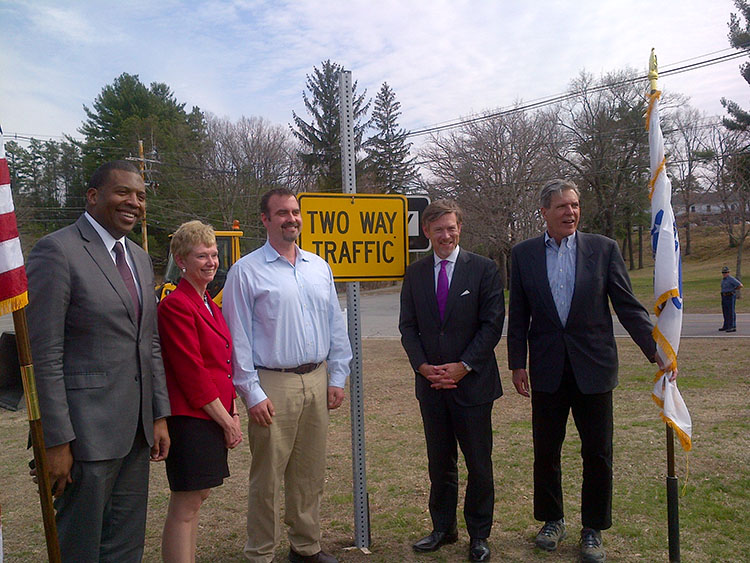 DAS Erskine and representatives from the Devens, Massachusetts Community at a grant announcement to improve road access for local manufacturing
Manufacturing built many parts of this country. It created hundreds of jobs and enabled the birth of the middle class. But over the years, some manufacturing communities have seen decline due to outsourcing or changes in the market. Yet, through the fluctuations and changes, the sense of pride in American manufacturing hasn't diminished. Today, manufacturing is experiencing a renaissance in the United States. Companies are bringing operations back to the U.S., entrepreneurs are bringing new products to market, and the industry is evolving to and adapting to new technologies. Manufacturing is creating jobs – jobs that are high-paying. But, it's also helping the economy. For every $1.00 spent in manufacturing, the sector generates $1.32 for the U.S. economy. EDA understands the crucial importance of manufacturing to the economic recovery and to future economic growth.
In FY2014, EDA invested in 89 manufacturing projects, totaling nearly $78 million. The projects were diverse, representing different industries, different geographies, and different community needs – much like manufacturing itself. EDA supported these projects in a number of different ways.
Half of the manufacturing projects EDA supported in the last fiscal year were construction projects, which are expected to create more than 7,000 jobs and generate nearly $4.3 billion in private investment.
In Devens, Massachusetts, we funded critical road improvements that providing easier access to the business park, enabling the projected creation of 460 jobs for the community.  And in Lancaster, South Carolina, a $900,000 grant to construct core infrastructure meant that an international textile manufacturing company was able to locate there that will create 150 jobs for the community. Even relatively small investments managed to have big impacts. In Yadkin Valley, North Carolina, a $355,000 grant to upgrade the sewer system that served the industrial park is estimated to create 260 jobs and generate $83 million in private investment. EDA grants also helped launch a number of planning efforts intended to boost manufacturing.
Also in FY2014, EDA continued supporting the Investing in Manufacturing Communities Partnership (IMCP) initiative. After announcing $7 million in planning grants in FY2013, EDA and its federal partners designated 12 Manufacturing Communities through a competitive process with nearly 80 very qualified applicants. In May, the 12 IMCP designated communities were announced and work is already getting underway in each of the communities.
Since the end of the recession, the manufacturing sector has created more than 700,000 quality jobs, and the industry currently supports 17.4 million U.S. jobs. The new fiscal year brings new projects and new opportunities to continue EDA's strong support of manufacturing.