Success Story: Italian Owned, American Made
November 2014 Newsletter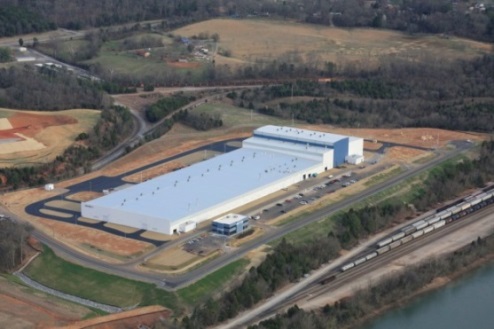 The $50 million Del Conca Facility in Louden, TN
The USA is the premier location for new business investment, top among all countries. According to Department of Commerce data released in Spring 2014, foreign direct investment flows into the United States and its territories rose from $160 billion in 2012 to $187.5 billion in 2013.
In Tennessee, an EDA investment is having a tremendous impact by helping to attract a premier Italian tile manufacturer. Earlier this year, Del Conca USA (DCUSA) celebrated the opening of its new $50 million facility in the Sugarlimb Industrial Park in Louden. The company forecasts the production of 30-million-square-feet of tile per year.
To accommodate Del Conca and other businesses, in 2013 EDA invested $1.5 million in the Loudon Utilities Board to help build a new electrical substation for Sugarlimb that would provide more reliable electrical service.
Del Conca has already hired 100 workers from the region. After extensive testing of the machinery and training, new employees at the Louden facility travelled to Italy for hands-on training at other plants in the group.
The company already has plans to expand, which are expected to include $20 million investment and the creation of an additional seventy-eight jobs over the next five to six years.
As is evident in Tennessee, foreign direct investments can help open trade between countries, creating more jobs in the process. Continuing to seek out and capitalize on opportunities for foreign direct investment will build up the global market and help boost economic competitiveness.