Spotlight: A Banner Year for IMCP
December 2014 Newsletter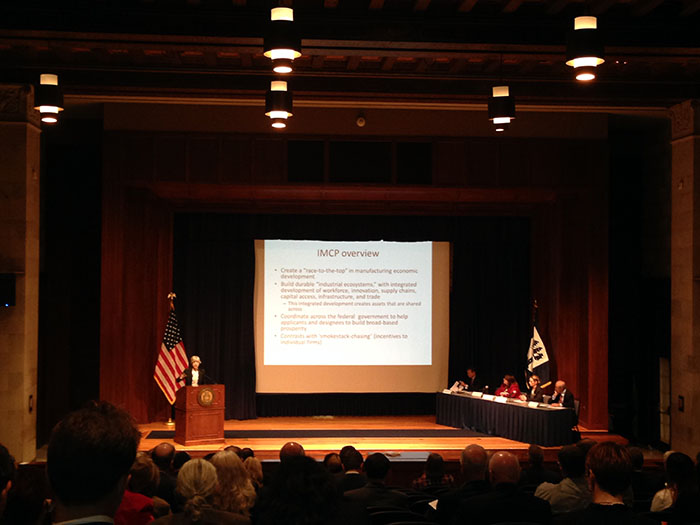 Session during the IMCP Summit
American manufacturing is experiencing a renaissance. Manufacturing jobs are highly technical, well-paid jobs – not the gritty factory jobs of yesteryear. Promoting manufacturing is a major priority for President Obama, Secretary Pritzker, and the Economic Development Administration, which is why the Investing in Manufacturing Communities Partnership (IMCP) initiative is so critical. IMCP is designed to revolutionize the way federal agencies leverage economic development funds by incentivizing the development of comprehensive economic development strategies that will strengthen their competitive edge for attracting global manufacturer and supply chain investments. Through IMCP, the federal government is rewarding best practices – coordinating federal aid to support communities' strong development plans and synchronizing grant programs across multiple departments and agencies.
In May of this year, Secretary of Commerce Penny Pritzker announced the first 12 designated manufacturing communities under the IMCP initiative. Of the more than 70 communities that applied, the 12 were selected by an interagency panel based on the strength of their economic development plans, the potential for impact in their communities, and the depths of their partnerships across the public and private sector to carry out their plans. Secretary Pritzker has repeatedly affirmed that the mission of IMCP is integral to the success of the Department of Commerce as a whole, noting that, "IMCP is a critical part of our 'Open for Business Agenda' to strengthen the American manufacturing sector and attract more investment to the United States."
Ultimately, eleven federal agencies with up to $1.3 billion in grant funding can use the designees' plans to make targeted investments in demonstrably strong public-private partnerships to strengthen regional manufacturing. In addition, each designated community has a federal liaison to help it navigate the federal grant process and the ability to capitalize on its designated Manufacturing Community to help attract additional private investment and partnerships. These 12 Manufacturing Communities are diverse, public-private consortiums that have put in place best practice economic development strategies that can be replicated by other American communities – including all those who applied for the IMCP designation.
The first 12 designated communities are making incredible strides in workforce development, advanced manufacturing innovation, and building partnerships. One example is the Puget Sound Regional Council, which has already leveraged its region's IMCP designation into two grants. Washington State received $4.3 million Department of Defense grant to help the state's military and defense sector weather the recent reductions in defense spending. The grant will be used for defense supply chain mapping and forecasting, developing economic diversification strategies, and assisting businesses and workers impacted by spending cuts.
Southern California's designation helped enable Chaffey College to secure a grant for $15 million from the U.S. Department of Labor and Education to establish training center, which will train workers in advanced manufacturing for highly technical, highly skilled jobs.
Tennessee Valley is leveraging its 'Drive for the Future' proposal and nearly $100,000 in federal grants to catalyze the region's burgeoning automotive supply chain sector. Additionally, it is working to apply knowledge and processes into the state's other industries in order to benefit Tennessee's broader economy.3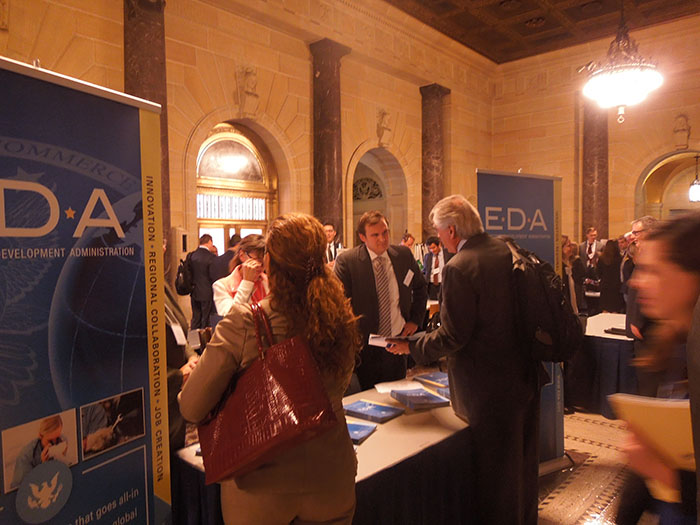 Participants at the IMCP Summit meet with representatives from IMCP federal partner agencies during an Aligned Programs Expo
In October, EDA and the Department of Commerce convened nearly 300 people for the IMCP Summit. The goal of the Summit was to bring together the designated communities, applicants, and potential future applicants to provide a venue where they could all come together to share best practices, work to address regional challenges, and collaborate. Of the nearly 300 who attended from across the country more than 60 were representatives from designated communities, 100 were from applicant communities, and the remaining representatives were made up of federal partners and stakeholders.  At the conclusion of the Summit, Deputy Secretary of Commerce Bruce Andrews announced that applications for the next round of designations would open before the end of the year in order to build on the tremendous success of the first round.
While 2014 was an incredible year for IMCP, we expect even bigger things in 2015. With help from the currently designated communities and the to-be-seen efforts of the next round of designees, American manufacturing will continue to grow and evolve to support the changing economy.