Success story: Wellston's Next Chapter
March 2015 Newsletter


Workers getting trained at the MET Center
You've heard this story a million times. Business locates in American city. Business creates jobs and a boon for the local economy. Life is good until business closes its doors. Unemployment runs rampant. City falls into disrepair. People flee the city. Crime gets bad, which keeps business and people from coming back to city. Sadly for some cities, that is the end of the story. Luckily for the people of Wellston, Missouri, a city located just west of St. Louis, there is another chapter.
In the 1980s, two large employers in the area shuttered their doors. The area began a long economic development process spearheaded by the St. Louis Economic Development Partnership, and in 1997 the city opened the MET Center, a strategic partnership created to stimulate the economic self-sufficiency of unemployed or underemployed individuals living in low to moderate income communities of the St. Louis region. The Center provides focused, comprehensive, and accessible career development and assessment services, job training, and transportation assistance.
Development of the MET Center has been supported by public and private institutions as well as by several EDA awards totaling $10 million to create spaces and facilities for expanding skills training. EDA made investments in 1984, 1994, 1997, 1999, and 2010 to help with construction projects and equipment purchases. The most recent EDA grant was awarded in FY 2014 for the expansion of a business incubator on the MET Campus. Thanks to EDA and its other partners, the MET Center continues to help members of the community get vital job training and find work.
"For over 15 years, we have worked towards enriching the lives of children and families through a comprehensive integrated service delivery strategy for workforce development that provides services for training and education, financial education and asset development, and employment, retention, and supportive services," said MET Center CEO Carolyn Seward. "It also includes assistance to families with quality and affordable early child care.  The opportunity for adult job seekers to receive training, employment, and financial services at the MET, while giving their children access to quality early child care is a major accomplishment."
Under the leadership of Carolyn Seward, the Center has developed collaborative partnerships to deliver education, training, and supportive services to customers. In September 2014, she was recognized for her efforts with the "Talent Development" award from the St. Louis Economic Development Partnership.
"Carolyn Seward is having a tremendous impact on the St. Louis community, especially North St. Louis County, which has seen unemployment rates well above the national average," said Denny Coleman, CEO of St. Louis Economic Development Partnership. "Carolyn's two-generational approach is quickly becoming a national model for how to help individuals get and retain a job."
The MET Center has become a premiere workforce center in the region and nation, bringing together two multi-jurisdictional education institutions, community based organizations, the two largest Workforce Investment boards in Missouri, to serve over 7,000 job seekers and families annually. It offers training in the areas of healthcare, bioscience-stem, manufacturing, diesel technology, and business services.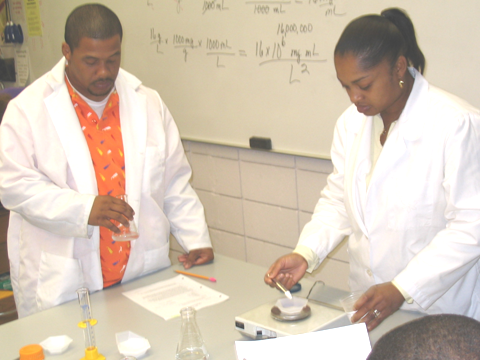 Students in a MET Center Lab
Since 2006, more than 21,000 individuals have taken advantage of the services offered by the MET Center. Annually, more than 2,500 clients participate in job training/search and work support services, of which an average of 65 to 75% percent are placed in a job upon completion of the program.  The Center also offers financial literacy services, which benefit more than 675 individuals each year.
When two major employers closed their plants in Wellston in the 1980s, it could have spelled disaster for the community. But thanks to smart planning, strategic partnerships, a little help from EDA, and the MET Center, the story of Wellston is far from over.