Success story: Protecting and Sustaining the Walla Walla Watershed
April 2015 Newsletter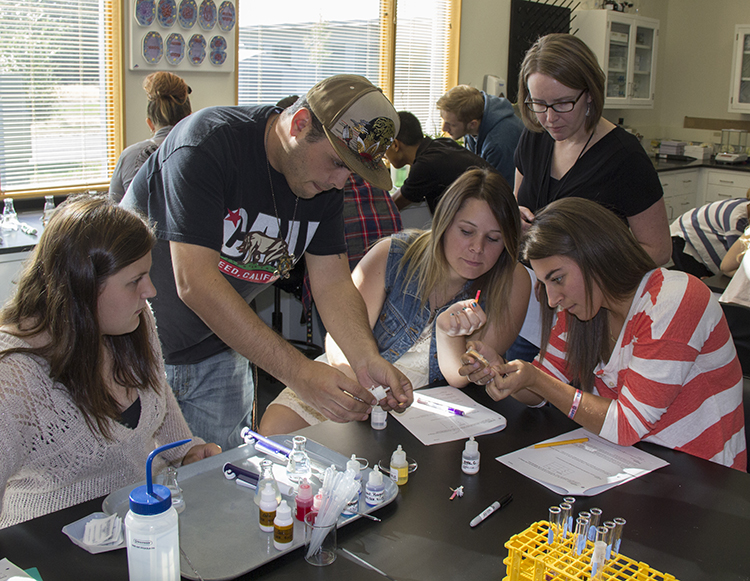 Students working in the lab at Water & Environment Center
With much of the west coast experiencing record droughts and even more dire predictions for the future, managing water and natural resources has become a critical priority for many communities. While there are many short-term measures that are being taken to cope with the shortage of rain and dwindling of reservoirs, there are some who recognize the need for longer term solutions. Walla Walla, Washington has been working on this issue since the late 90s. To address challenges and advance solutions, organizations in the Walla Walla Valley came together to create the William A. Grant Walla Water & Environmental Center (WEC) at Walla Walla Community College as a nexus for the region's interests, talent and resources dedicated to water management, education and research. The Water & Environmental Center was designed as a space where education, collaboration and partnership would play a key role in addressing issues essential to the sustainability of eastern Washington's overall economy. By combining research and development that leads to innovative new ideas, while also providing hands-on education to train new workers, the Center offers a place to both generate environmental solutions and spur economic growth that results in well-paid jobs.
Opened in 2007, the initial LEED Silver facility included offices and meeting rooms. In its first year, the Center hosted more than 200 meetings, events and conferences on water, sustainability, and environmental issues, which led to requests for additional space. In 2010, Walla Walla Community College received a $3 million grant from EDA to help expand the facility, adding an aquatic research and propagation laboratory, specimen/biology laboratory, water quality laboratory, hydrology laboratory, classrooms and additional office space. This addition helped earn the facility a LEED gold certification.
"The Water and Environmental Center is helping to conserve natural resources in and around the Walla Walla Valley," said Water and Environmental Center Director Dave Stockdale. "We are grateful for the support we've received from our partners, including the Economic Development Administration, in helping us create a more sustainable future for our community."
The Center is also producing a huge return on investment for the area. According to a recently concluded Environmental and Economic Impact Report, there is a return of $3 for every $1 invested in the Center. The WEC feels that other watersheds can and should adopt the model pioneered by the WEC and its partners. However, several key lessons from the establishment and operation of the WEC should be heeded when working to replicate this model: start from common ground; maintain strong vision and leadership; bring unlikely partners together under shared goals; encourage collaborators to leverage their own funding to enhance the entire effort; ensure degree programs are tied to regional job opportunities; and, demonstrate the cost effectiveness of a multi-user facility to potential funders. Using these principles, the WEC has become a regionally significant center for innovation and collaboration.
Other programs that began prior to the creation of the WEC were able to continue because of the space and resources the Center provides. For example, WEC now runs the Community College's Irrigation Technology Degree Program, which has created substantial environmental benefits in the Walla Walla Basin. Students and faculty have worked together to design new fish screen, irrigation, and pumping systems. Significant environmental benefits from this program included saving Endangered Species Act listed and other culturally significant fish species, and improved pressure systems, energy savings, and reduced costs for agricultural producers.
In recognition of its contributions the Center was awarded the 2010 Governor's Workforce and Economic Development Best Practice Award and the 2011 Columbia River Inter-Tribal Fish Commission Leadership Award, and was cited as one of the factors for which the National Journal named Walla Walla Community College one of the top 50 innovators in the U.S. In addition, the Center was cited as one of the innovations for which Walla Walla Community College was awarded the prestigious 2013 Aspen Prize for Community College Excellence.