Spotlight: Commerce Signs Agreement with Germany to Coordinate Workforce Development and Apprenticeship Opportunities
July 2015 Newsletter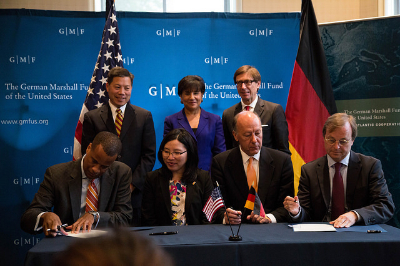 Assistant Secretary Williams (left) joins Secretary Pritzker (center) to sign an MOU with Germany
In this country, the word "apprentice" may conjure historical images of colonial times – or for some of Mickey Mouse being overrun by brooms in Fantasia. But apprenticeships are a valuable workforce development tool and an opportunity for skilled workers to teach those skills to the next generation. In many European countries, apprenticeships offer an alternative career path to college or university and more academic pursuits.
The Obama Administration recognizes the value of promoting apprenticeships, and on June 5, the U.S. Department of Commerce joined with the U.S. Departments of Education and Labor to sign a memorandum of understanding (MOU) with Germany. The German vocational training system (dual system) is a proven apprenticeship model, and this MOU will help build partnerships with German employers to expand apprenticeships in their U.S. operations.
The MOU, or Joint Declaration of Intent, provides a framework in which the participants may identify and explore cooperation in the area of career and technical training, increase learning from one another and provide joint support for future initiatives and measures as a result of this cooperation.
The goal of the Joint Declaration is to bring more of Germany's experience to the United States – and exchanging best practices in workforce development. This agreement will formalize cooperation in technical and career training and will include exchanges of information, fact-finding visits, and meetings among experts from business and government from both of our countries and has the potential to expand on-the-job training, internships, and apprenticeships.
The United States enjoys a robust, active economic relationship with Germany, and our cooperation on developing a skilled workforce in the United States is just one example of our strong partnership. We also benefit from significant investment from German companies, which employ over 620,000 American workers. This Joint Declaration of Intent is simply another sign of how our countries are working together to deepen our dynamic economic ties and to ensure that our nations remain open for business.
Through the Department's Skills for Business initiative, Commerce is seeking to create more of these types of agreements to promote international cooperation and opportunities for cross cultural workforce training. Hopefully, as these agreements and other activities produce results, people will come to understand the value of apprenticeships in our contemporary society and see them as a viable path.