Highlight: The Evolution of Economic Development
August 2015 Newsletter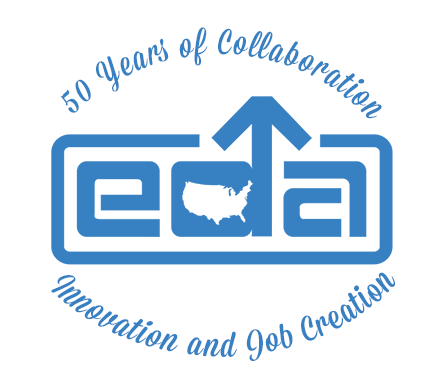 EDA 50th Anniversary logo
Economic development has been around since the early 1900s, but controlled primarily by the private sector. Banks, railroads, utilities, and businesses largely led economic development activities based purely on increasing profits. All that changed in 1933 when the federal government decided to adopt a stronger, more comprehensive federal role in economic development. The result was increased federal investment in the public good to help build capacity and avoid a private-sector monopoly on America's infrastructure.
By the mid-20th century, there was a growing realization that economic development had to include more than just investing in infrastructure to help address socioeconomic inequities. On August 26, 1965, President Lyndon Johnson took the first step by signing the Public Works and Economic Development Act, authorizing the creation of the Economic Development Administration (EDA) to help stimulate industrial and commercial growth in distressed communities across the nation.
For its first three decades, investments in infrastructure such as water, sewer, and roads, remained a top priority for the disadvantaged communities that EDA served. As today, these critical infrastructure investments help to drive regional economic growth and job creation.
By the late 1980s, many communities had begun pursuing new emerging concepts of entrepreneurship and innovation to help them diversify and grow. Communities began to embrace small and medium-sized enterprises and start-ups, realizing that investing in small businesses would pay off in the long-term and drive their regional economies forward. To that end, EDA adapted and established revolving loan funds that communities could use to support these local small and medium-sized businesses.
Toward the end of the 20th century, globalization began to take root, and Americans realized there was untapped markets and wealth in a global economy. America could export goods and services to the world. To help communities assimilate, EDA began engaging in multiagency initiatives to spur economic growth and build strong connected ecosystems to foster the workforce development, market conditions, critical infrastructure, financing, and other resources that would strengthen America's regions and build a foundation for future prosperity.
Throughout its history, EDA investments have been guided by the basic principle that communities must be empowered to develop and implement their own locally-owned economic development and revitalization strategies based on their region's unique assets and needs. A model of smart, lean government, EDA has always adapted and broadened its focus to best support bottom-up economic development plans.
Today, EDA remains the only federal agency with economic development as its exclusive mission. As the profession and concept of economic development evolves, so too has EDA's approach. EDA's constant growth and evolution has ensured that it remains relevant, prepared, and capable of efficiently and effectively advancing its mission of economic prosperity in distressed regions across America.