Message from Assistant Secretary Jay Williams
August 2015 Newsletter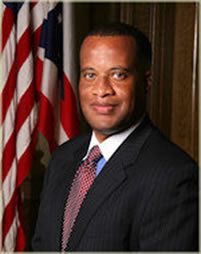 I am honored and privileged to serve as Assistant Secretary for this incredible agency and to shepherd EDA into its 50th year. As we've prepared to commemorate 50 years of EDA investments, leadership, and successes, we've had the opportunity to look back. I've enjoyed hearing from our long-time staff that has shared stories about EDA's past. I hope you are enjoying the historic photos we have shared on Facebook and Twitter and in this newsletter. It's been a nice time of reflection, but it also provides an opportunity to look forward.
EDA has an incredible and storied history, but it's got an even more promising future. From critical public works projects to helping fledgling new companies commercialize their products, EDA has, and continues to, partner with communities to support their unique needs. EDA's role as a convener on multi-agency initiatives, such as IMCP and POWER, is helping revolutionize federal programs by breaking down silos and leveraging economies of scale.
EDA's future is bright. With your continued support and partnership, I can say with certainty that there will be even more to celebrate over the next 50 years.
Jay