Highlight: Improvements to EDA Grant Application Processes
September 2015 Newsletter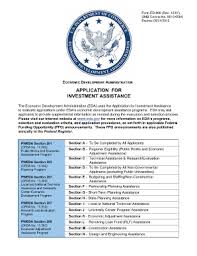 Image of current EDA grant application form
In April 2015, EDA issued a Federal Register Notice heralding some proposed improvements to our forms as part of overall enhancements we're making to the grant application process. Very soon, those changes will become institutionalized. Here are a few key things you need to know to be ready when the FY2016 Public Works and Economic Adjustment Assistance Programs Federal Funding Opportunity hits the streets.
Say goodbye to the ED-900 as you know it! We have heard from our applicants and stakeholders that the current form is confusing; it is not clear which sections need to be completed for a given program. We've taken that feedback and are creating a suite of shorter forms that can be mixed and matched to fit the needs of the different program solicitations. When you go to apply for a given program, you will only see the forms you need to apply for that program.

New proposal form to assess viability of potential projects under our Public Works and Economic Adjustment Assistance Programs. Under our current process, you have to submit a full application to determine whether or not your project meets the technical and merit requirements needed to receive funding. That's about to change! EDA is introducing a short proposal form where potential applicants can describe their project to ascertain whether or not it is responsive to the FFO and reflective of the essential criteria necessary for EDA's competitive consideration. If your proposal is determined to be responsive, you'll be asked to submit a full application for competitive consideration of funding. And, an EDA staff member will be assigned to provide feedback on your proposal and assist you with future applications.

Why are we making these changes? EDA is continually seeking to improve our processes to make the applicant experience easier and the review process more efficient. This new process will ease the burden on applicants while enabling faster reviews by EDA staff.
The 2016 FFO will be out in the coming weeks and will have more details on these and other changes. EDA is planning several webinars once the FFO is published. Keep watching for updates in your inbox, on social media (@US_EDA), and on eda.gov.
Grants.gov is also making some improvements and implementing "workspace" features this fall that will also have a major impact on our applicants and how they submit applications. Workspace will provide an interactive and collaborative environment for applicants to complete an application package. These changes will help reduce the time it takes to complete forms and provide context-sensitive help functions. More information about the new workspace features is available on grants.gov.