Success Story: Wichita State University: Spurring Advanced Manufacturing in the Heartland
October 2015 Newsletter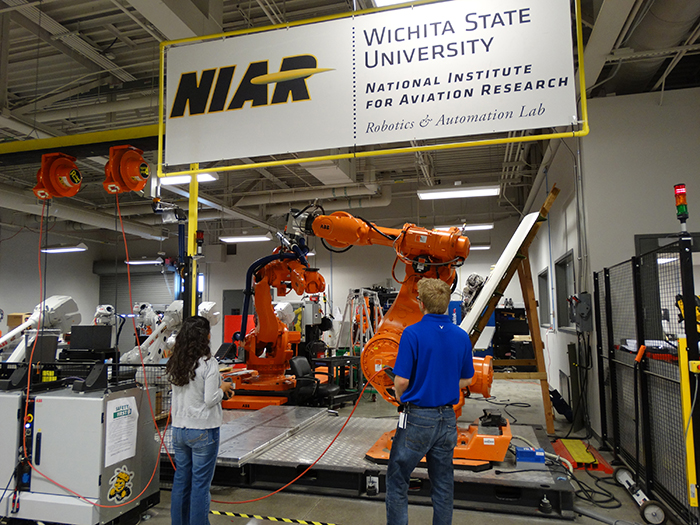 Robots at the WSU Robotics and Automation Lab
It's fitting that Wichita, Kansas is nearly dead center of the country (though the geographic center is actually nearby Lebanon, Kansas), because this Midwestern city is also at the center of some cutting-edge advanced manufacturing. Wichita State University (WSU) leads the South Kansas Manufacturing Community (PDF), which was named as an Investing in Manufacturing Communities Partnership (IMCP) designated community during the first round of IMCP competition. WSU also seeks to lead the country in advanced manufacturing and experiential engineering through its EDA-supported Innovation Campus.
Wichita State University first opened in 1895, when Wichita had only been a city for 25 years. At that time, the telegraph machine was considered innovative, cutting-edge technology. As the times have changed, WSU has sought to be a leader for Kansas and the country. In January 2014, WSU revealed its plans for an Innovation Campus as a key driver to help achieve the University's new mission: To be an essential educational, cultural, and economic driver for Kansas and the greater public good.
After successfully partnering with NetApp and receiving $2 million in funding from the Kansas Legislature, the Innovation Campus was on its way to becoming a reality. In May, WSU's efforts were bolstered by South Kansas' designation as an IMCP community, and in October of 2014, WSU received its first EDA grant. The $1.8 million grant helped purchase equipment for a multi-robotic additive manufacturing (MRAM) laboratory, which will be located on the Innovation Campus. The laboratory will allow manufacturers, entrepreneurs, and designers to use advanced virtual reality to simulate multi-robotic additive manufacturing before implementation in order to test the feasibility of using additive manufacturing technology in the manufacturing process.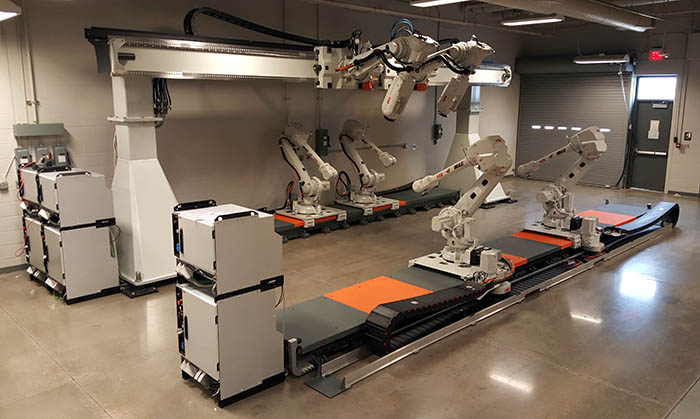 The MRAM Laboratory at WSU
In July 2015, WSU received another EDA grant construction of an access road and parking for the Experiential Engineering building, which will be the first building on the Innovation Campus. And in September, EDA announced a $7.1 million investment is WSU Ventures to strengthen and diversify the region's advanced manufacturing supply chain, accelerate the quality and scope of defense technologies, and increase the competitiveness and sustainability of defense-impacted businesses.
"The EDA's support of the Innovation Campus has been a significant factor in its rapid development," said John Tomblin, WSU vice president for research and technology transfer. "The funding and support provided by the EDA will assist WSU in accomplishing our goal to be an essential educational, cultural and economic driver for Kansas."
The robots for the MRAM are already being assembled, and construction will begin on the Experiential Engineering building in the coming months. As the Innovation Campus continues its development, and WSU continues to lead the South Kansas IMCP efforts, amazingly innovative things will be coming out of the near center of the country. Who knows – Wichita may become the "Silicon Valley" of advanced manufacturing!