Message from Assistant Secretary Jay Williams
February 2016 Newsletter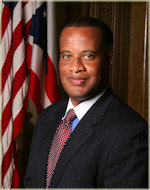 As we celebrate African-American history month in this final February of President Obama's administration, I cannot help but reflect on the tremendous strides our nation has made under the leadership of our nation's first black president.
For example, after turning the nation away from the worst economic crisis this country has seen in over 70 years, we are now experiencing one of the longest economic expansions in the history of our country with businesses having added 14 million jobs over 71 straight months and the unemployment rate has dipped to 4.9 percent for the first time since February 2008. The African American unemployment rate has been halved since its Great Recession peak.
In addition, the President paved the way for millions of uninsured American's to gain access to quality, affordable healthcare, including more than 2 million African Americans.
Today, African American high school and college graduation rates are at an all-time high.
Progress like this is welcome news. Yet we are not satisfied.
President Obama believes we need to do more than just recover from the economic crisis - a crisis that has hit the African-American community especially hard.
We need to restore security and opportunity for working Americans with the fundamental values that made our economy the strongest in the world – making sure everyone does their fair share, everyone gets a fair shake and hard work and responsibility are rewarded.
In my role at EDA, I am honored to travel the country and to see first-hand the positive impact that EDA investments have across every state and territory and across rural and urban regions in the nation.
As an African American, I am particularly proud when visiting EDA investments that are working to help African-American communities grow and thrive. Several of these critical investments are highlighted in this newsletter.
Working together, with our partners at every level of government and with leaders like you across the nation, our economy has moved from recession to recovery to expansion over the past seven years.
To build on our momentum, we look forward to seeing you at EDA's 2016 National Conference that will take place on April 7-8 in Washington.
Jay