Blog Post
EDA's Regional Innovation Strategies Program: Supporting Resources Critical to Entrepreneurial Success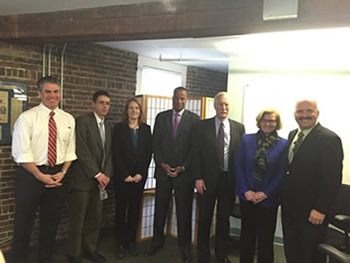 Assistant Secretary Williams joins U.S. Senator Angus King and U.S. Representative Chellie Pingree to spotlight Maine's two 2015 RIS recipients: The Maine Center for Entrepreneurial Development and Coastal Enterprises Inc.
Ensuring that entrepreneurs across the nation have access to the tools they need to move their ideas and inventions from idea to market is a top priority for President Obama and his administration.
To advance this key priority, today Secretary Pritzker announced the 25 recipients of the Economic Development Administration's (EDA) 2015 Regional Innovation Strategies (RIS) program, which this year was designed to advance innovation and capacity-building activities in regions across the country through grants addressing two essential core components that entrepreneurs need to take their ideas to market: programmatic support and access to capital.
Under RIS, programmatic support to help convert research and inventions into jobs is funded through EDA's i6 Challenge, now in its fifth iteration.
Today in Maine, where I formally announced the awards with U.S. Senator Angus King and U.S. Representative Chellie Pingree, we visited with leadership from the Maine Center for Entrepreneurial Development (MCED), one of 17 organizations receiving an i6 Challenge grant.
MCED will use the investment to expand their proven program, Top Gun, into the rural counties across the state. The objective of this project, the Top Gun Rural Accelerator Network (Top Gun RANE), is to increase and strengthen the pipeline of entrepreneurs building successful technology-based companies through training and mentoring while also connecting these nascent companies into the community.
The second element of this year's RIS, Seed Fund Support Grants (SFS), address another need of growth-oriented entrepreneurs: access to capital. Investments made through this program provide funding to support feasibility, planning, formation, or launch of equity-based seed capital funds.
I also met with leadership of Coastal Enterprises, Inc., (CEI) one of the eight organizations receiving a grant under the SCF program. CEI's Natural Resource Business Seed Capital Fund will target growth-oriented entrepreneurs innovating across Maine's vital natural resource-based industries. Based on its data-driven track record and assessment of the market going forward, CEI estimates that by 2023 its' the Fund will provide $5 million in capital to 35-40 clients, leveraging at least $6.2 million in follow-on investment, create 225-250 jobs, and enable client companies to launch 60-90 new innovation-based products.
Critically, these two projects will be closely aligned and complimentary – with MCED working to improve entrepreneurship across the region and into rural areas while CEI works to increase the types and amount of capital those entrepreneurs can access to grow their businesses. Although two very separate organizations, their efforts are great examples of a holistic approach to developing a comprehensive community of resources – an "ecosystem" - for innovators and entrepreneurs within a specific region.
The RIS program is managed by EDA's Office of Innovation and Entrepreneurship (OIE), which is dedicated to helping communities create the building blocks that foster new technology, business, and jobs as a means for economic development. With another $15 million of direct appropriation for fiscal year 2016 anticipated to be released this spring, OIE will continue to administer this core EDA program.
The projects mentioned above are just two examples of the great work that the over 80 RIS grantees across the country are doing to help their communities thrive, becoming more resilient and better able to compete in a global economy, which in turn contributes to a better quality of life for all. At the end of the day, that's what economic development is all about.