Spotlight: Celebrating Women's History Month
March 2016 Newsletter


By Commerce Secretary Penny Pritzker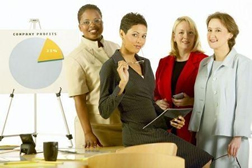 This Women's History Month, we celebrate the impact of women entrepreneurs and tech leaders. From Sheryl Sandberg to Daphne Koller to Natalie Massenet, women are shaping the digital landscape in the United States.
Yet the overall statistics on female entrepreneurs are sobering.
Women only make up 26 percent of the computing workforce. While women earn the majority of bachelor's degrees, they hold only 12 percent of computer science degrees.
And if you look at how many women hold leadership positions at tech companies and venture capital firms, the numbers are even lower.
Now is the time to ensure that women and girls fully realize the potential of the role they can play in our economy – but if we are going to close this gap, we all need to step up. We must do more.  Encourage the women in your life to learn STEM skills and how to code. Reach out to the HR Department of your technology companies and encourage them to more actively recruit and promote female professionals. Speak at trade shows, conferences, and other events. Be visible in your field. Or start a mentoring program and encourage your peers to participate. I hope that each and every one of us – male and female – will work to encourage the greater participation of women and girls in science, technology, engineering and math.
The world needs more women entrepreneurs. It is up to ALL of us to empower the female innovators of today and tomorrow!   
Watch the Maggie Lake CNNMoney Interview with Commerce Secretary Penny Pritzker: Women Entrepreneurs Need Access to Capital.
Read the Presidential Proclamation: Women's History Month, 2016!