EDA Honors Women's History Month
Spotlight: Trisha Korbas, Economic Development Representative for New Mexico and West Texas
March 23, 2016
Battle not with monsters, lest ye become a monster, and if you gaze into the abyss, the abyss gazes also into you.

- Friedrich Nietzsche, Philosopher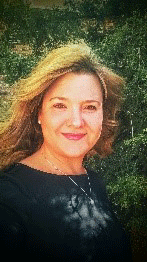 Quotes from philosophers take on a number of interpretations. Nietzsche's quote has inspired me since an early age to use my creativity and expertise for the benefit of others. I have always challenged the "abyss" to help eliminate the barriers, or "monsters," for others. Having the opportunity to work for an agency like EDA has nourished that mindset, allowing those famous words to come to fruition.
I was born in Denver at Fitzsimmons Army Medical Center. I come from a Polish American family from Syracuse, New York. As an "Air Force Brat" I spent my early childhood in the Philippines, until several years later, at which time the family boarded a C-130 plane to Kirtland Air Force Base in Albuquerque, New Mexico.
I am a 1999 graduate of New Mexico State University in Las Cruces. I am proud to have been one of a handful of women that received a Bachelor of Science degree in Civil Engineering. I worked for several years in the private sector designing water and wastewater treatment plants and other projects related to water resources. My experience working directly with local communities to improve their quality of life by removing regulatory obstacles may have triggered my initial interest in public service.
In 2003, I began working as a Civil Engineer with the EDA Austin Regional Office. I was immediately overwhelmed with the task of navigating the federal regulatory process. Once a construction project received final approval, the paperwork associated with plans, budgets, timelines, amendments, reimbursement, etc., was beyond daunting. Working with other engineers and program staff, I created the EDA Construction Grant Post-Approval Process CD. This interactive CD, a tool to assist our customers with reporting and compliance issues, fundamentally changed the way EDA conducts construction and oversight monitoring activities. I was honored in 2007 to receive the Department of Commerce Silver Medal in recognition of my work.
In 2011, I had the opportunity to transfer to the Denver Regional Office. In addition to my work as a Civil Engineer, I took on the role of Economic Development Representative (EDR) for Colorado, South Dakota, and Utah. As a Project Engineer, I was mainly tasked with post-approval management responsibilities. In contrast, as an EDR, I was directly involved in project development, helping local communities build an environment that promoted job creation and private sector investment. As a result, one of my proudest achievements was working with my colleagues to assist the Pine Ridge Indian Reservation, in one of the poorest counties in the country, with a grant for a Native American Arts Incubator.
Following the devastating floods that occurred in Colorado in 2013, I was deployed to a Joint Field Office to serve as the lead Field Coordinator for Economic Recovery for the State. Both my Headquarters counterpart and I worked many long hours in collaboration with state officials to identify economic recovery challenges, provide technical assistance, and to ensure that all available resources across the federal government were provided to the affected communities. Given the levels of urgency and economic devastation, it was imperative that we use the latest advances in both technology and innovation to effectively respond to the emergency at hand.
I have often been asked, "How does a Civil Engineer become an Economic Development Representative?" Earlier in my career, I was asked a similar question: "As a female, what persuaded you to pursue an Engineering degree." I enjoy solving problems. Engineers fix problems. They also create innovative solutions. Innovation and economic development work hand in hand. My working with EDA and FEMA has not only strengthened my passion for helping distressed communities, it has also empowered me to continue to think outside the box; e.g., eliminate Nietzsche's metaphorical "abyss."
I have served proudly as Chair for the Combined Federal Campaign (CFC). The mission, message, and generosity of the CFC has always been important to me. Following the example of my parents, I have contributed to the national and local Associations for Amyotrophic Lateral Sclerosis (ALS) and have worked to strengthen the connection between employee and charity.
As an avid sports fan, I pay particular attention to college basketball, professional football, and enjoy golf. My sports hero is former Secretary of State, Condoleezza Rice. In February 2013 at Pebble Beach, California, she received public renown as the first of two females invited to be a member of the Augusta National Club. While walking off the 18th green, she was asked: "How does golf compare to diplomacy?" Rice replied with, "Well, I know how to do diplomacy, I'm not so sure about the golf course." I, too, am not sure about the golf course (specifically my short game), but I know my true vocation is the place where my inner happiness meets a community's deepest need.
I am proud of the communities I serve. They provide daily motivation. I am grateful for my EDA family, both men and women, who have laid the foundation for the only federal agency whose sole mission is economic development. I am proud to help build on that foundation, along with my colleagues, as we strive to innovate and make the lives of others better.